Sponsorship Opportunities
Sponsoring GGAA gives your organization valuable exposure to leading scientists, industry professionals and experts, farm managers, and students from who are the next generation of scientists and industry leaders. Your participation can create lasting impact for the future of your organization as technologies evolve.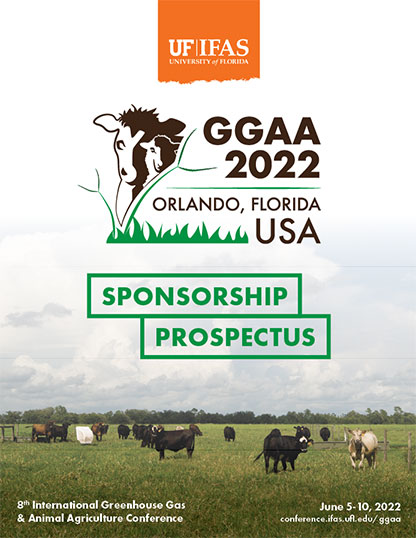 For a print friendly version of sponsorship information, download the pdf of our Sponsorship Prospectus.
---
Why Should You Sponsor GGAA?
As a participating sponsor, you organization will have the opportunity to:
Showcase your organization's information and services in front of scientists, industry professionals, farm managers, students, and the world's global experts in agricultural greenhouse gas emissions research and mitigation technologies and practices
Increase brand awareness and generate leads for new customers and potential contracts
Enhance its prominence in the greenhouse gas mitigation community and expand its outreach
Establish connections and form collaborations with other companies and scientific institutions
Have your display located where catering breaks and the poster zone take place, ensuring maximum interaction with attendees
Come for visibility, come for networking, come for knowledge – leave with new connections and opportunities!
---
How to Become a Sponsor
Refer to the table below to confirm your preferred sponsorship level and associated benefits, and then scroll down this page and click on the Become a Sponsor button. This leads you to the online sponsorship commitment and payment form. Payment may be made immediately by credit card, or you can select either the pay by check or purchase order option. If you require an invoice, check the box at the top of the page to request one and an invoice will be sent as a PDF attached to your final sponsor confirmation. This confirmation will also contain specific instructions on how to provide your logo for recognition purposes. As soon as we receive your logo file, it will be added to the web site for immediate recognition.
---
Sponsor Levels
Benefits at Each Sponsorship Level
Diamond
$20,000+
Platinum
$15,000+
Gold
$5,000+
Silver
$2,500+
Bronze
$2,000+
Complimentary registrations
4
3
2
1
0
Exclusive sponsorship of an evening reception (limited number available)
Logo featured on Front Page of GGAA web site
Logo featured on Front Cover of abstract book
10' deep by x 20' wide Exhibit Space in the Poster & Sponsor Display Area
6 ft. table in Poster & Sponsor Display Area
4
tables
2
tables
1
table
1
table
No
table
Logo featured on one side of conference attendee tote
A sign recognizing your organization displayed in foyer
Recognition on signage at Charging Station
A brochure insertion in attendee packets
(printing & delivery costs covered by sponsor)
Access to Post-conference list of attendees
Your logo will appear in publicity emails sent to more than 3,500 greenhouse gas emissions research and mitigation technology professionals
Acknowledgment at the opening and closing session
Logo on the back cover of the program book
Logo included on conference sponsor signage
Recognition on the conference sponsor webpage
Logo featured on PowerPoints in meeting rooms
Post-Conference Material