Sponsor Display Information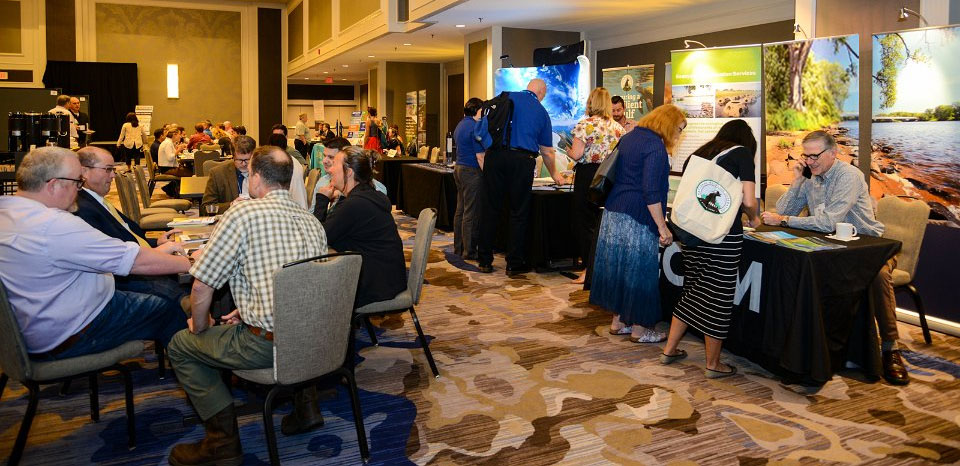 A limited amount of space is available for sponsors confirmed at the Silver level and higher to set up table-top displays in the poster display and refreshment break area.
More details on Sponsorship Opportunities »
---
Sponsor Display Set-up and Removal Times
| | |
| --- | --- |
| Move-in Displays: | Sunday, June 5: 11:00am–7:00pm |
| Move-out Displays: | Thursday, June 9: 3:30pm–5:30pm |
Space is limited. You will be provided with a quantity of 6' tables based on your level of sponsorship, and two chairs.
Each 6' table comes with a cube of display space equal to 6' wide by 6' deep. A three foot walkway will be maintained between each display.
Pop-up banners may be used, as long as they fit within the cube of space (on top of or behind the table).
If you plan to put pop-up banners behind your table, make sure your graphics department knows important content should appear at the top of the banner.
Additional costs will be incurred should you require electricity for your display.
Sponsor display placement is determined by the organizers and your table will be identified with a tent card.
Sponsor table top displays will be located in the poster hall, and placed around the perimeter of the room, with attendee seating, digital posters and refreshment breaks set up in the remaining space.
Table top displays are meant to serve as a forum to show informational materials so a representative does not need to remain stationed at the table. If you want to interact with attendees, the times most effective for doing so are during early morning refreshments, daily am and pm breaks, and the evening poster session.
Individuals assisting with setting up the table top display, but not remaining at the conference, do not need to register. Otherwise, all display staff and representatives must be full registrants.
If you wish to bring informational materials sufficient for everyone, we expect roughly 250-300 people to attend the conference.
Parking is complimentary. To unload materials, we recommend using the conference center entrance. If you need assistance by a bellman, use the hotel's main entrance.
---
Shipping of Display Materials
If you require assistance with shipping display materials to or from the hotel, the Hotel will accept shipments no earlier than 48 hours (2) days prior to the arrival day of the convention. Please address all shipments as directed below.
Example Shipping Label:
Attention: Guest First & Last Name
HOLD FOR Arrival on (insert date you are arriving at hotel)
GGAA Conference Exhibitor
c/o Wyndham Orlando Resort International Drive
8001 International Drive
Orlando, FL 32819
Phone: 1 (407) 351-2420
---
Special Shipping Instructions
The Hotel will not accept packages more than 48 hours prior to the start of a function. A $20 per box labor charge will be assessed for unloading vehicles and moving items to storage areas.
---
Incoming Charges
No charge on overnight envelopes or express boxes under 10 lbs.
Rates based strictly on weight:

0-10 lbs: Free of Charge
11-30 lbs: $10
31-50 lbs: $20
51-100 lbs: $40
101-250 lbs: $60
---
Outgoing Charges
Complimentary on all overnight/express envelopes with completed labels and guest using own account number.
Overnight Envelopes/Express boxes using hotel account number, credit card or room charge. Internet Rate plus $7.00 handling fee for each item.
All outgoing boxes either UPS or FedEx using own account number, hotel account number, credit card or room charge. Internet Rate plus $7.00 handling fee for each item.
Post-Conference Material