Sponsorship Opportunities
The University of Florida College of Veterinary Medicine invites you to collaborate with us in organizing the Florida Marine Mammal Health Conference. Become a sponsor today to promote your organization and build meaningful relationships with conference attendees.
Marine mammals are a vital part of our global environment, and your attendance and sponsorship of the Florida Marine Mammal Health Conference will identify you as a leader in promoting the health and welfare of these magnificent animals. The conference will also provide you with a valuable opportunity to exchange vital information with top experts from around the world about the care and management of marine mammals, marine mammal transport, marine mammal strandings, emerging diseases, environmental hazards and numerous issues affecting their health and safety and survival of the species.
As a participating sponsor of this conference, you will. . .
Learn about the latest advances in marine mammal health issues.
Learn about new technical approaches to marine mammal biology.
Network with colleagues from around the world and share your knowledge, experiences and information.
Establish connections and form collaborations with other companies as well as educational, scientific and governmental institutions represented by conference attendees.
Be involved in discussions to set priorities promoting the health and welfare of marine mammals around the world.
Meet potential clients and forge new business relationships with specialists in marine mammal health care.
Increase brand recognition, generate exposure and enhance awareness of your company's product on an international level.
Reinforce your organization's visibility in the marine mammal health care arena as a featured sponsor on the conference web site with a link to your organization's home page.
Demonstrate your organization's ongoing commitment to promote the well-being of marine mammals by supporting the education and dissemination of information that this recurring conference facilitates. Education is the greatest tool available to protect marine mammals and their ocean homes from future damage, and to engage the next generation of global citizens. Be a part of that integral engagement, and become a sponsor today.
Benefits of Sponsorship
Right Whale
(Diamond)
$10,000+
Pilot Whale
(Platinum)
$5,000+
Manatee
(Gold)
$2,500+
Dolphin
(Silver)
$1000+
6' draped table top for a display*
1
1
1
1
Complimentary registrations
3
2
1
0
Acknowledgement as Keynote Speaker sponsor
Individual signage at plenary entrance
Logo featured on promotional item (e.g. tote bag, water bottle, notepad.)
Brochure insert in attendee tote bag
Pre- and post-conference list of attendees
Recognition on the conference website
Recognized in slide show in session rooms
Recognition on conference signage
Recognition during opening plenary
Recognition in emailed publicity notices
Recognition in the printed agenda pamphlet
Not seeing the perfect package? If you are interested in contributing to the Florida Marine Mammal Health Conference in a way not listed in our sponsorship options, please contact Kristin Zupancic at kzupancic@ufl.edu.
*A limited number of table tops accommodate power requirements. Let us know right away if your table top display requires electricity.
Please Note
ALL sponsor representatives are required to register for the conference. Sponsorships will be confirmed on a first-come, first-served basis and upon receipt of payment. Payment must be received by Feb. 26, 2018 to be recognized in print.
Graphics Requirements for Sponsor Recognition
In order to properly recognize your contribution to the Florida Marine Mammal Health Conference on the website and in printed materials, we ask that you email Kristin Zupancic a high resolution version of your organization's logo, preferably a vector file in .eps format . (We accept JPEG, TIF, and EPS formats and recommend a minimum resolution of 300-600 dpi for the best representation of your organization.)
A Few Words of Thanks to Our Sponsors
On behalf of the entire Organizing Committee, we wish to thank all of the organizations that take the extra step to partner with us by becoming a sponsor.
Questions about becoming a sponsor?
Email Kristin Zupancic, Conference Coordinator, at kzupancic@ufl.edu.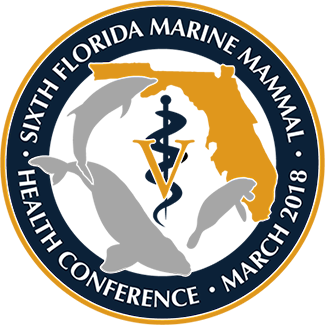 View Speaker Presentations View Abstract Compilation View Photo Album
Upcoming Deadlines
Hotel Reservation Deadline
March 5, 2018
Regular Registration Deadline
March 26, 2018