Many speakers have agreed to share their presentations under the condition that they are used without alteration for educational purposes only. Properly cite all materials when referencing.
Scroll through the agenda below and click on any "View PDF" link to open a PDF of the presentation.
The University of Florida does not assume responsibility for content, views or opinions expressed in these independent presentations, and authors are solely responsible for ensuring their presentation materials do not infringe on third party copyrights. Any questions or comments should be directed to the presenting author. If you suspect a presentation of copyright infringement, please contact us immediately.
WEDNESDAY
Wednesday, March 28, 2018
7:00am-7:50am
Morning Beverages, Registration, Poster and Exhibit Setup
7:50am-8:10am
Welcome from Conference Organizers
8:10am-9:00am
Keynote Speaker
Jack Payne, UF/IFAS Senior Vice President for Agriculture and Natural Resources
9:00am-10:30am
GENERAL SESSION: Water Quality and Indian River Lagoon
Session Chair:
Duane De Freese, Executive Director, Indian River Lagoon Council
9:00am
Duane De Freese, Indian River Lagoon Council
Water Quality Monitoring for the Indian River Lagoon - Challenges and Opportunities Ahead
View PDF
9:15am
Charles Jacoby, St. Johns River Water Management District
Indian River Lagoon: Perfect Storm or New Norm
View PDF

9:30am
Sam Rossman, Hubbs-SeaWorld Research Institute
Historical Ecological Context Reveals Insights into the 2013 Bottlenose Dolphin Unusual Mortality Event and Legacy of Nutrient Loading
View PDF
9:45am
Spencer Fire, Florida Institute of Technology
That Tingling Sensation Means It's Working: Saxitoxin in Indian River Lagoon Dolphins
View PDF
10:00am
Megan Stolen, Hubbs-SeaWorld Research Institute
Understanding the Health and Population Status of North American River Otters: The Other IRL "Marine Mammal"
View PDF
10:15am
Katie Tripp, Save the Manatee Club
Next Generation Restoration of the Rose Bay Watershed
View PDF
10:30am-10:45am
Refreshments and Networking Break in Poster/Exhibit Room
10:45am-12:45pm
GENERAL SESSION: Health Assessments
Session Chairs:
Martine deWit, Veterinarian, Florida Fish and Wildlife Conservation Commission and Craig Pelton, Adjunct Clinical Assistant Professor, Aquatic Animal Health Program, University of Florida
10:45am
Robert Bonde, U.S. Geological Survey
Health Assessment on the Florida Manatee: What Have We Learned and Where Are We Going?
11:15am
Nicole Stacy, University of Florida
Manatee Health Assessment Blood Samples: Key Information for Long-Term Monitoring and Understanding Population Health
11:30am
Elizabeth Burgess, New England Aquarium
Developing Non-Invasive Biomarkers to Monitor Threats to Florida Manatees
View PDF
11:45am
Randall Wells, Chicago Zoological Society
Longitudinal Bottlenose Dolphin Health Assessment and Population Monitoring in Sarasota Bay, Florida
View PDF

12noon
Michael Walsh, University of Florida
Cetacean Field Imaging Enhancement for Health Assessment of Wild Small Cetaceans Utilizing a Portable Wireless Radiographic Plate, Multiuse Work Station Pad and Unique Bucky System
12:15pm
Craig Pelton, University of Florida
The Atlantic Bottlenose Dolphin Health and Environmental Risk Assessment Project from the Southeastern USA: 2003-2015
View PDF
12:45pm-2:15pm
Lunch Provided at SeaWorld
2:15pm-3:45pm
GENERAL SESSION: Infectious Diseases, Toxoplasmosis and Zoonotic Diseases
Session Chairs:
Thaís C.S. Rodrigues, Postdoctoral Researcher, Wildlife and Aquatic Veterinary Diseases Laboratory, University of Florida and
Thomas Waltzek, Research Coordinator and Assistant Professor, Aquatic Animal Health Program, University of Florida
2:15pm
Thaís C. S. Rodrigues, University of Florida
Characterization of a Novel Pegivirus in Indian River Lagoon Bottlenose Dolphins
View PDF
2:30pm
Thaís C. S. Rodrigues, University of Florida
Characterization of Potentially Oncogenic Viruses in Bottlenose Dolphin (Tursiops truncatus) Tumor Tissues
View PDF
2:45pm
Thomas Waltzek, University of Florida
Phylogenomic Diversity of Northern Hemisphere Cetacean Morbilliviruses
3:00pm
Miriam Marmontel, Mamirauá Institute for Sustainable Development
Pathological Survey of Pulmonary Disease in Free-Ranging Brazilian River Dolphins
View PDF
3:15pm
Nelmarie Landrau-Giovannetti, University of Florida
Characterization of a Novel Circovirus from a Stranded Longman's Beaked Whale (Indopacetus pacificus)
View PDF
3:30pm
Adam Schaefer, Florida Atlantic University
Temporal Evaluation of Antibiotic Resistance from Common Bottlenose Dolphin (Tursiops truncatus), a Sentinel Species
View PDF
4:00pm-5:00pm
Poster Session
THURSDAY
Thursday, March 29, 2018
7:00am-8:00am
Morning Beverages and Registration
8:00am-9:40am
GENERAL SESSION: Monitoring Health in Marine Mammals
Moderator:
Iske Larkin, Lecturer, Education Coordinator, and Interim Director,
Aquatic Animal Health Program, University of Florida
8:00am
Brandon Bassett, Florida Fish and Wildlife Conservation Commission
External Watercraft-Related Wound Types in the Florida Manatee (Trichechus manatus latirostris)
View PDF

8:20am
Nicola Erdsack, Mote Marine Laboratory & Aquarium
Nostril Temperature as Indicator for Body Temperature – Using Infrared Thermography as a Diagnostic Tool in Florida Manatees
8:40am
Jonathan Cowart, University of Florida
What is Normal? Establishing Baseline Data for Reproductive Parameters in Male Florida Manatees

9:00am
Jessie Stevens, Florida Atlantic University
Novel "Tiger Stripe" Condition in Free-Ranging Bottlenose Dolphins
9:20am
Michelle Greenfield, Princeton University
Effect of Anthropogenic Injuries on the Social Associations of Bottlenose Dolphins (Tursiops truncatus) in Sarasota Bay, Florida
9:40am-10:00am
Refreshments and Networking Break in Poster/Exhibit Room
10:00am-11:45am
GENERAL SESSION: Education
Session Chairs:
Gordon Bauer, Experimental Psychologist, New College of Florida and
Iske Larkin, Lecturer, Education Coordinator, and Interim Director, Aquatic Animal Health Program, University of Florida
10:00am
Gordon Bauer, New College of Florida
Marine Mammal Education: Overcoming Cognitive Bias
View PDF

10:15am
Frank Alcock, New College of Florida
Climate Change: World Views, Political Attitudes and Implications for Environmental Education
View PDF

10:30am
Heidi Harley, New College of Florida
Educating the Public About Other Minds: Dolphin Cognition Research as a Window to Science and Other Animals
10:45am
Teri Bolton, Roatan Institute for Marine Sciences
Pre-Departure Technology Enhanced Instruction Fosters Deep Learning During an International Study Abroad Course and Service Learning Internships at the Roatan Institute for Marine Sciences, Honduras
View PDF

11:00am
Heather Maness, University of Florida
Assessment of the Preparation of Aquatic Animal Health Veterinarians for Entry-Level Positions

11:30am

Iske Larkin, University of Florida
Characterizing Success of the UF Aquatic Animal Medicine Certificate
View PDF

11:45am-1:15pm
Lunch Provided at SeaWorld
1:15pm-3:35pm
GENERAL SESSION: Biosurveillance and Molecular Techniques
Session Chairs:
Nancy Denslow, Professor, College of Veterinary Medicine, University of Florida and
Margaret Hunter, Research Geneticist, Wetland and Aquatic Research Center, U.S. Geological Survey
1:15pm
Nathan Clark, University of Pittsburgh
Ancient Convergent Losses of the Paraoxonase 1 Gene Could Render Marine Mammals Susceptible to Organophosphate Pesticides
View PDF
1:40pm
John Bowden, National Institute of Standards and Technology
Perfluoroalkyl Acids (PFAAs) in Plasma of the West Indian Manatee (Trichechus manatus)
View PDF
2:05pm
Maite De Maria, University of Florida
Biomarker Development for Manatee Health Assessments
View PDF
2:20pm
Chelsea Acres, University of Charleston
Evaluating Skin Disease in Bottlenose Dolphins of Brunswick and Sapelo Island, Georgia
2:35pm
Julia Zaias, University of Miami
Molecular Characterization of Cetacean Skin - Laying the Foundation to Develop Cutaneous Biomarkers
View PDF
2:50pm
Breanna Breaux, Texas A&M University
The Florida Manatee (Trichechus manatus latirostris) T Cell Receptor Loci Exhibit V Segment Locus Synteny and Chain-Specific Evolution
View PDF
3:05pm
Jason Ferrante, U.S. Geological Survey
Use of Quantitative PCR Assays to Measure Immune Function Gene Expression in Cold Stressed Florida Manatees
3:20pm
Margaret Hunter, U.S. Geological Survey
Investigating Manatee Taxonomic Relationships Using High-Throughput Genotyping-by-Sequencing SNP Data
7:30pm-9:30pm
Social at Sea Life Aquarium
FRIDAY
Friday, March 30, 2018
7:00am-8:00am
Morning Beverages and Registration
8:00am-10:00am
GENERAL SESSION: Entanglement and Rescue-Rehabilitation:
Program Techniques and Response
Session Chairs:
Claire Erlacher-Reid, Veterinarian, SeaWorld Orlando and
Michael Walsh, Clinical Coordinator and Clinical Associate Professor, Aquatic Animal Health Program, University of Florida
8:00am
Wendy Noke Durden, Hubbs-SeaWorld Research Institute
Evaluating Intervention Success and Survival of Free-Swimming Dolphins Along the East Central Coast of Florida (2007-2017)
8:20am
Lara Croft, SeaWorld Orlando
Cetacean Rescue and Rehabilitation at SeaWorld
8:40am
Claire Erlacher-Reid, SeaWorld Orlando
Manatee Medicine in a Rehabilitation Setting at SeaWorld

9:00am
Craig Pelton, University of Florida
Small Cetacean Entanglement
View PDF
9:20am
Clay George, Georgia Department of Natural Resources
Large Whale Disentanglement: Saving North Atlantic Right Whales, One Entangled Whale at a Time
View PDF
9:40am
Claire Erlacher-Reid, SeaWorld Orlando
Manatee Entanglement

10:00am-10:15am
Refreshments and Networking Break in Poster/Exhibit Room
10:15am-12noon
PRE-PANEL SHORT TOPICS: Wild Marine Mammal Intervention and Conservation – Challenges, Funding and Future Directions
10:15am
Erin Fougeres, National Marine Fisheries Service
An Overview of the Marine Mammal Stranding Response Program in the Southeast U.S.
View PDF
10:30am
Robert Bonde, U.S. Geological Survey
USGS - Manatee Conservation - Goals for the Future
10:45am
Leslie Ward, Florida Fish and Wildlife Conservation Commission
Manatee and Right Whale Programs
11:00am
Pat Rose, Save the Manatee Club
Downlisting and Conservation Challenges
11:15am
Randall Wells, Chicago Zoological Society
Long-Term Research and Conservation Programs - Value and Challenges
View PDF
11:30am
Michael Walsh, University of Florida
Integration, Collaboration, Partnering and Synergy: Biologist, Field Scientist and Wildlife Veterinarians Working Toward Long-Term Conservation Programs
11:45am
Jim Valade, U.S. Fish and Wildlife Service
Managing Wild Marine Mammal Programs
12noon-1:30pm
Lunch Provided at SeaWorld
1:30pm-3:15pm
Interactive Panel Discussion
3:15pm-3:30pm
Conference Closing Remarks
3:30pm
Conference Concludes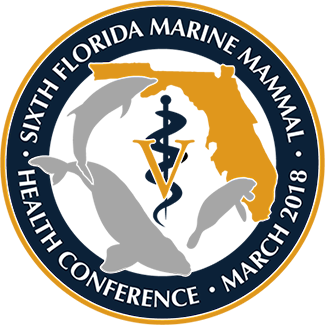 View Speaker Presentations View Abstract Compilation View Photo Album
Upcoming Deadlines
Hotel Reservation Deadline
March 5, 2018
Regular Registration Deadline
March 26, 2018