Poster presentations will play a key role in the success of the 67th Annual International Wildlife Disease Association Conference. Posters will be on display in the sponsor display and refreshment room throughout the conference.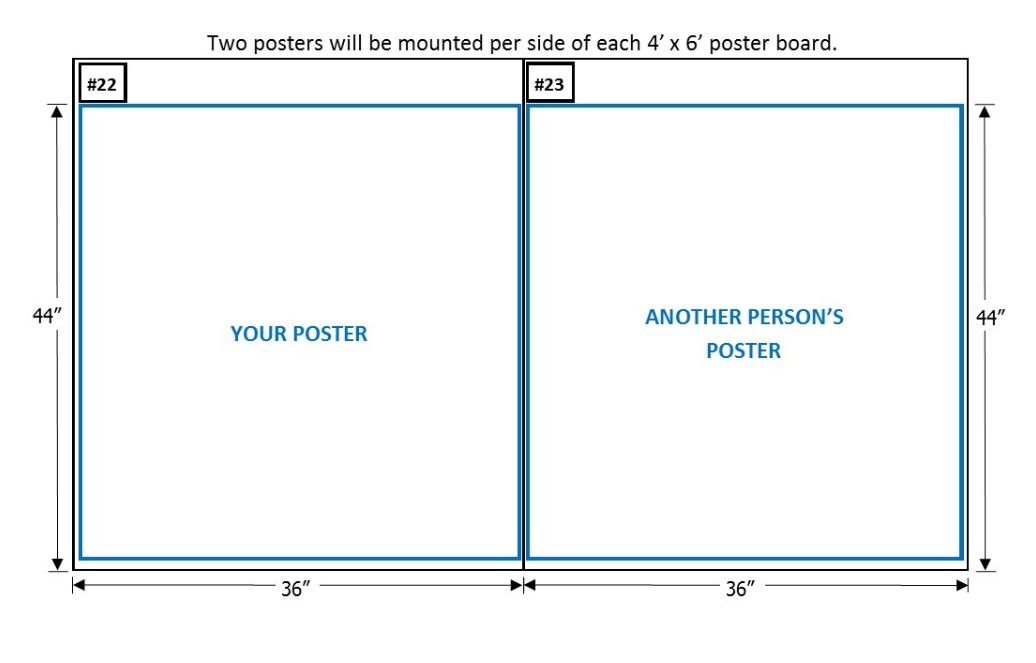 Poster Specifications
Posters will be limited to 44 inches high x 36 inches wide (1.12M high x 0.91M wide).
Two poster presentations will be mounted to each side of the poster boards.
Allow a 4-inch x 4-inch space (10.16cm x 10.16cm) for a poster number in the upper left-hand corner of your display space. Each poster will be assigned a number in advance so you will know where to place your poster.
Poster boards will be freestanding.
Posters must be presented using the poster boards provided by the conference. The poster boards are contiguous, and presenters may not use their own self-contained displays. Due to space restrictions, no tables or electricity will be provided.
Poster boards are covered with fabric, and posters can be affixed using either Velcro or ¾" long push pins. Tape is not permitted. A limited supply of Velcro tape will be available for your use during mounting, but we recommend you bring a supply with you.
Refreshment breaks will be served in the poster room each day. In addition, there will be student poster presentations on Tuesday, and general poster sessions on Wednesday and Thursday.
STUDENT POSTER SET UP:
Sunday, August 5th | 3:00-5:00pm
This set up time is for students only, whose poster session is on Tuesday
LOCATION:
Renaissance World Golf Village Meeting Space
St. Augustine CD
STUDENT POSTER REMOVAL:
Tuesday, August 7th Removal may begin at 3:30pm and must be completed by end of day.


*If the presenter after you needs to set up before you have removed your poster, we will remove yours for you and save it at the conference registration desk.

GENERAL POSTER SET UP:
Tuesday, August 7th | 3:30pm Students will begin removing their posters at 3:30, so you may begin set up any time after that. Your poster must be set up by 9:00am on Wednesday.


*If the previous presenter's poster has not been removed when you are ready to set up, please notify staff at the conference registration desk and we will remove it for you.

GENERAL POSTER REMOVAL:
Thursday, August 9th | 3:30pm **Removal may begin Thursday, August 9th at 3:30, but must be removed no later than conference conclusion on Friday at 12 noon.
POSTER SESSIONS:
Tuesday, August 7th | 10:30-11:15am (student session 1)
Tuesday, August 7th | 2:45-3:30pm (student session 2)
Wednesday, August 8th | 10:00-10:45am (general session 1)
Thursday, August 9th | 10:00-10:45am (general session 2)
**Poster display boards will be dismantled and removed by the vendor on Friday afternoon beginning at 12 noon, so please remove your poster during the assigned time slot. The conference organizers are not responsible for lost or damaged posters removed by the display board vendor. Posters left behind will be discarded.

**Sending your poster in advance? Click here to view hotel shipping instructions
Speaker Presentations (WDA Members Only)
Important Dates
Conference T-Shirt Preorder deadline – July 5
Online Registration available until – July 22
Platinum Sponsors