Poster Information
Poster presentations play a key role in the 4th Annual NPDN Meeting's purpose of sharing new ideas, information, and diagnostic techniques, as well as networking to facilitate cooperation and collaboration. Much time will be dedicated to viewing posters during the meeting's 45-minute breaks and during the Welcome Reception, allowing diagnosticians and their partners many opportunities to interact and share details of their work.
Poster Specifications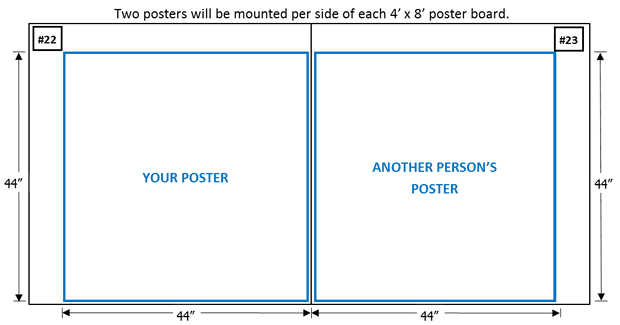 Posters will be limited to 44 inches high x 44 inches wide
(1.12M high x 1.12M wide).
Due to limited space, two poster presentations will be mounted to each side of the poster boards.
Please follow size limits so you allow a space for a poster number in the upper corner of the board and avoid encroaching on your neighbor's poster display.
Each poster will be assigned a number in advance so that you will know where to place your poster.
Presenters must use the poster boards provided by the Conference.
Poster boards are covered with fabric, and posters can be affixed using either Velcro or ¾" long push pins. Tape is not permitted. A limited supply of Velcro tape will be available for your use during mounting, but you may also bring extra for yourself.
Early morning, mid-day and afternoon refreshments will be served in the poster room each day, in addition to the Welcome Reception on Tuesday, allowing plenty of time for visibility and networking.
POSTER
SET UP:
Tuesday, March 8, 2:30pm - 5:30pm
Please try to ensure that your poster is up by 5:30pm so that it may be viewed during the Welcome Reception
WELCOME RECEPTION:
Tuesday, March 8, 5:30pm - 7:00pm
Poster presenters are asked to stand at their posters to answer any questions about their work.
POSTER
REMOVAL:
Thursday, March 10, 3:00pm - 3:45pm **
**Poster display boards will be dismantled by the vendor promptly, so please remove your poster during the requested time slot. Conference organizers are not responsible for lost or damaged posters removed by the display board vendor. Posters left behind will be discarded.
Click here for Hotel Shipping Policies and Instructions