Networking Events
An Evening with Laura Waller (Welcome Reception)
Monday, November 16, from 7 – 9 pm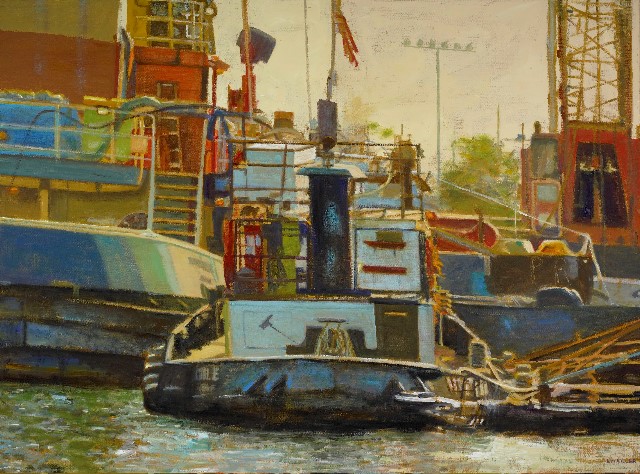 Join us for a special evening of food and art! We are excited to open the 4th National Working Waterfronts & Waterways Symposium with an exhibit of Laura Waller, a local artist who has painted scenes of our nation's working waterfronts, harbors, and ports for over twenty years. In 2013, Laura selected the Port Tampa Bay, one of Florida's major international maritime hubs, as her new subject. The resulting series of twenty-five oil paintings, "The Working Waterfront: Port Tampa Bay," explores the raw, industrial side of Tampa's waterfront through Laura's up-close, painterly portrayal of ships in the Port.
The welcome reception starts at 7:00 pm and will feature a presentation by Laura about her work from 7:30 – 8:00 pm. Come view a selection of Laura's current work and learn more about the inspiration she draws from working waterfronts, the challenges she faces in gaining access, and how art can connect people to these often invisible places. While you do so, feast on hors d'oeuvres, visit the carving, pasta, salad, and dessert stations, and take advantage of the beer and wine cash bar.
Waller currently paints full time, dividing her schedule between Maine and Tampa studios. For thirty years she was a certified financial planner, but throughout her career continued to paint and study independently with many prestigious artists in Arizona, Florida and Maine. Her series, "The Working Waterfront: Port Tampa Bay," was featured in a 2015 solo exhibition at the Clayton Galleries, Tampa, FL. A solo exhibition of the latest of Laura Waller's Port Tampa Bay Series will open January 2017 at Clayton Galleries. For more information, please visit the artist's website at: http://laurawallerart.com/index.html.
Preserving the Working Waterfront Premiere
Tuesday, November 17, from 5 – 7 pm
Join us from 5:00 – 7:00 pm on Tuesday evening to celebrate the launch of a new oral history collection – Preserving the Working Waterfront. This National Working Waterfront Network project was funded by NOAA's Preserve America Initiative and involved the collection of ten oral histories focusing on the application of specific tools for sustaining working waterfronts across the country. Featured communities include, among others, Gig Harbor, WA; Portland, ME; Panacea, FL; and Fishtown, MI. To increase the accessibility of the oral histories, which are archived in NOAA's Voices of the Fisheries Collection, ten audio slideshows were created to highlight key portions of the oral history and lend visuals to the story.
During this two-hour event, Project Team and NWWN members Kristen Grant, Anna Hamilton, Stephanie Otts, Natalie Springuel, and Kenneth Walker will showcase full-length audio slideshow selections from the collection and share thoughts as to how oral histories can be used in working waterfront initiatives. Several of the project participants, including Lewie Lawrence, Executive Director, Middle Peninsula Planning District Commission; Sarah Garcia, former Community Development Director and Harbor Planning Director, Gloucester, Massachusetts; and Bill Needelman, Waterfront Coordinator for the City of Portland, Maine, will be on hand to share their thoughts and experiences.
The showing will be followed by a moderated discussion of the role oral histories can play in helping communities plan for the future of their working waterfronts.This will be an open discussion with symposium attendees' participation strongly encouraged.
Dinner at The Florida Aquarium
Wednesday, November 18, from 6 - 9 pm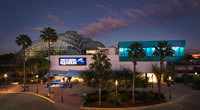 Please join us for dinner and a special evening at The Florida Aquarium. Come see why The Florida Aquarium is one of the top aquariums in the country! Experience sharks, alligators, lemurs, penguins and much more! Take a journey through a nostalgic state park trail past the alligator-infested Suwannee River on the Wetlands Trail and explore the Aquarium's newest exhibit, Journey to Madagascar. With over 20,000 sea creatures, there is a sea of excitement waiting at The Florida Aquarium.
Oh, and let's not forget dinner! Dinner at the aquarium will include a Florida Salad, Herb Crusted Baron of Beef, Chasseur Chicken, Roasted Potatoes, Seasoned Vegetables, Dinner Rolls, Key Lime Pie and Carrot Cake along with iced tea, regular and decaf coffee, and hot tea. A beer and wine cash bar will also be available.
Florida Aquarium Exhibits Closing Times
Wetlands Trail and Journey to Madagascar - 8:30pm
Bays and Beaches - 9:00pm
Coral Reef and Ocean Commotion- 10:00pm (last bus departs for hotel at 9:00pm)
Transportation To/From the Florida Aquarium
Buses will begin departing from the Tampa Hilton Downton at 6:00pm, and will shuttle every twenty minutes between the Aquarium and the Hilton. Last bus will depart the Aquarium at 9:00pm for return to the Hilton. The aquarium is 1 mile from the hotel and is about a 20 minute walk. Click here to access a google map that shows walking and public transportation options.