Symposium Location and Hotel Information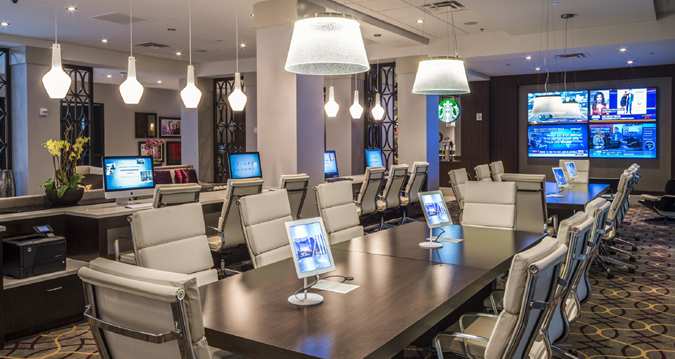 Hilton Tampa Downtown
211 N. Tampa St.
Tampa, FL 33602
PH: 1-813-204-3000
FAX: 1-813-273-0234
The Hilton is located in the heart of downtown Tampa within walking distance to many attractions and less than 9 miles from the Tampa International Airport.
UPDATE: If the Hilton is full over the dates you are requesting, overflow accommodations information can be found here
Special Group Rate Information:
UPDATE: RATE MAY NO LONGER BE AVAILABLE. (The Hilton Tampa Downtown was offering NWWWS attendees a special group guest room rate of $99 per night plus applicable taxes (currently 12.5%) for single and double occupancy in standard rooms.)
Only attendees that book under the group will receive complimentary Wi-Fi in guest rooms (currently $9.99 per day), and $4 off the overnight valet-parking
UPDATE: HOTEL CLOSE TO FULL AND RATE MAY NOT BE AVAILABLE. Please be aware the block of rooms may fill before the deadline, so we urge you to make your reservation as soon as possible.
After October 16, 2015, the discounted rate is not available on possible remaining rooms.
To make your reservation, Contact the hotel by phone at 1-813-204-3000. Identify yourself as a "NWWWS" participant.
IMPORTANT ITEMS TO NOTE:
All reservations must be guaranteed with a major credit card.
Deposits will be forfeited if cancelled after 3:00pm EST the day prior to your arrival.
$99.00 Early Departure Fee: Advise the Hotel at least 48 hours in advance of the date on which you will be departing early to avoid being charged an early departure fee of $99.00.
Guests will be expected to leave a valid credit card or a cash deposit in the amount of $50 for incidentals with the hotel at the time of check-in.
Internet Access: Only NWWWS attendees who book within the group block will receive complimentary in-room wireless internet.
Complimentary wireless internet is available to hotel guests in the hotel lobby. Standard in-room access not through the group block is currently available for $9.99 per day.
Parking Fees: Only NWWWS attendees who book within the group block receive Overnight Valet Parking of $16/24 hours, based on availability.
Standard hotel parking fees are currently Overnight Self-Parking $16/24 hours and Overnight Valet Parking $20/24 hours.
Nearest Parking Garage fee is currently $9.95. This fee begins from the moment of parking and reoccurs every day at 6am. It is located at: Fort Brooke Parking Garage, 107 N Franklin St, Tampa, FL 33602
Check-in Time: 3:00pm | Check-out Time: 12:00pm
The guest room rate is below the 2015 FY GSA per diem for the Pinellas County area. www.gsa.gov/portal/category/100120
Florida government participants: To receive tax exempt status, payment must be made in the form of a government issued check or credit card and be accompanied by a Florida sales tax exemption certificate presented at check-in.
No porterage or maid gratuities will be included or automatically charged to your room and both are at your discretion. Suggested Customary Gratuities for Hotel Staff are:

Baggage Handling $5.00 per room, each way
Housekeeping $3.00 per room, per day (housekeepers may change from day to day, and it is recommend housekeeping gratuities be placed out daily.)
Airport Shuttle
Blue One Transportation, the Hilton Tampa Downtown preferred transportation service, offers non-stop transportation to and from the Tampa International Airport. To use this service please call our transportation hotline when walking off of your plane prior to picking up luggage 813-333-3598. Pricing is $13 for single passengers or $11 per passenger for 2 or more guests.
Hotel Reservation Fraud Alert
There are companies that pose as official housing bureau and contact attendees telling them the guest room block is sold out. The company then quotes a rate at another hotel claiming it is an official room block and that you must reserve through them to get discounted rates. They obtain and access your credit card. This scam is affecting meetings all over the country. Always use the hotel reservation links provided on the host organization's web site.