Poster Information
Poster presentations will play a key role in the success of ACES 2016. Much time will be dedicated to viewing posters so that scientists, policy makers, planners, practitioners, and managers can interact and use these opportunities to share details of their work, successes, and lessons learned.
Poster Specifications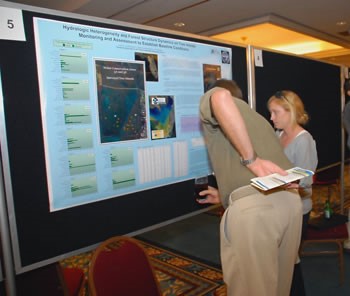 Posters will be limited to 44 inches high x 72 inches wide (1.12M high x 1.82M wide).
One poster presentation will be mounted to each side of the poster boards.
Allow a 4-inch x 4-inch space (10.16cm x 10.16cm) for a poster number in the upper left-hand corner of your display space. Each poster will be assigned a number in advance so that you will know where to place your poster.
Poster boards will be freestanding.
Posters must be presented using the poster boards provided by the conference. The poster boards are contiguous, and presenters may not use their own self-contained displays. Due to space restrictions, no tables or electricity will be provided.
Poster boards are covered with fabric, and posters can be affixed using either Velcro or ¾" long push pins. Tape is not permitted. A limited supply of Velcro tape will be available for your use during mounting, but we recommend you bring a supply with you.
Early morning, mid-day, and afternoon refreshments will be served in the poster room each day. In addition, there will be a formal poster session reception on Thursday evening.
SET-UP:
Sunday, December 4th, 5:00pm-7:00pm, or any time after 7:30am on Monday, December 5th. Boards may be set-up upon arrival any time after this, but no later than Wednesday, December 7th.
LOCATION:
Hyatt Regency Jacksonville Riverfront, Grand Ballroom 5
POSTER RECEPTION:
Thursday, December 8th, 5:30pm-7:30pm
(Presenters to be stationed at posters from 6:30pm-7:30pm)
REMOVAL:
Friday, December 9th, 7:30am-1:00pm**
**Poster display boards will be dismantled and removed by the vendor on Friday afternoon, so please remove your poster during the assigned time slot. The conference organizers are not responsible for lost or damaged posters removed by the display board vendor. Posters left behind will be discarded.
SPECIAL NOTE: For authors presenting multiple posters, we make every attempt to position your posters close to each other.
Poster Shipping Information
Click here for the Hyatt Regency Jacksonville Riverfront's Shipping and Receiving Policy
Click here for the Hyatt Regency Jacksonville Riverfront's Shipping and Receiving Form
(NOTE: You will need to complete this form if you plan to ship your poster to the host hotel in advance of the conference)