Meeting Site & Accommodations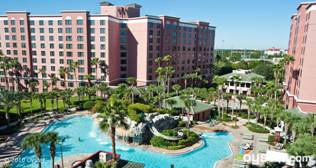 CARIBE ROYALE
8101 World Center Drive
Orlando, Florida 32821
TEL: 1-800-823-8300
WEB: www.thecaribeorlando.com/caribe-royale/


INTECOL 9 will be held at the Caribe Royale located in Orlando, Florida. Awarded the Florida green lodging certificate, this all-suite hotel offers spacious guest rooms complete with separate living rooms with pull out, queen size sleeper sofas, and will comfortably accommodate all INTECOL 9 events. A Walt Disney World Good Neighbor hotel, it is family friendly including a unique pool with a 75 ft water slide. The hotel is located close to a variety of Orlando attractions and ideal for incorporating a family vacation.
Special Group Rate Information
The Caribe Royal is offering participants of the 9th INTECOL International Wetlands Conference a very special rate of $129 per night plus applicable taxes (currently 12.5%) for single or double occupancy for standard double queen or standard king suite. This rate is net non-commissionable.
There is a $15 per night charge for each additional adult. Children age seventeen (17) and under stay free in the same room with parents. The special rate will be honored three days prior and three days following the conference dates, based on availability.
Room amenities include:
In suite mini-refrigerator, coffee maker, & microwave
Ergonomically designed workspace
Two telephones, voicemail, data ports
Free HBO and cable in high definition format
In-suite hair dryer, iron & ironing board
Click here to take a virtual tour of a standard double queen room.
Please note that parking is complimentary. Also no porterage or maid gratuities will be included or automatically charged to your room; both are at your discretion.
Suggested Customary Gratuities for Hotel Staff:
- Baggage Handling $5.00 per room, each way
- Housekeeping $3.00 per room, per day
- Room Deliveries $3.00 per room
Reservation Deadline
Reservations must be made by Wednesday, April 16, 2012 to receive this special group rate.
Please be aware the block of rooms may fill before the deadline, so we urge you to make your reservation as soon as possible. After April 16, the discounted rate is not guaranteed on possible remaining rooms.
Make Your Reservation in One of Two Ways:
To make your reservation at the reduced rate, call 1-800-823-8300 and state that you are a 9th INTECOL International Wetland Conference participant - or - reserve online through the dedicated booking site for INTECOL.

All reservations must be accompanied by a first night room deposit or guaranteed with a major credit card. The Hotel will not hold any reservations unless secured by one of the above methods. Cancellation of individual reservations within three (3) days of arrival will result in forfeiture of deposit or first night's room and tax.
All government participants: To receive tax exempt status, payment must be made in the form of a government issued credit card or check, and be accompanied by a Florida sales tax exemption certificate presented at check-in.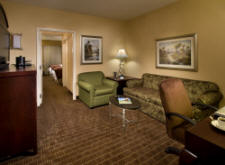 Check-in Time: 3:00pm
Check-out Time: 11:00am
Early check-in will be accommodated if suites are available.
Guest Service will provide luggage storage for early arrivals and after check-out.
Special Instructions
All reservations require a credit card or check to keep on file to cover (1) night's room and tax. This credit card will not be charged at the time the reservation is made, however, will be kept on file. The individual may cancel their reservation without penalty no less than (3) three days prior to the scheduled arrival. In the event the cancellation occurs within (3) days of arrival or if a guest does not arrive for a scheduled reservation; the guest will be charged for (1) night's room and tax and the remainder of the reservation will be released. After arrival, guests departing earlier than reserved will be charged (1) night room and applicable tax. Guests wishing to avoid this fee must advise the hotel at or before check-in of any change in the scheduled length of stay.
Share-a-Room Information
This service is to assist individuals in locating others interested in sharing accommodations for the symposium. It is the individual's responsibility to make contact with other interested parties. Once a roommate has been located, you may request removal of your email contact.
CLICK HERE
to view those wishing to share a hotel room.
Click here to submit your information for posting on the share a hotel room page (Email submissions will be posted within 5 working days).
This service will require that your name, gender, email address, affiliation, originating country and smoking preference be posted on a web page accessible to the public.
After locating a roommate, be sure to reserve your hotel room specifying two double beds as soon as possible. Double rooms tend to fill first and may not be available if you wait.
Click here to have your contact information removed from the list of those wishing to share a hotel room.
If you are sharing a guest room with another participant, be sure to communicate the following information when making your hotel reservation.
The full names of all sharing the guest room. If a person is not listed on the room, they will not be allowed to check into the guest room upon arrival.
How the deposit is to be paid and by whom. If the deposit is to be paid by more than one person, then the full information and payment arrangements need to be included in the communication. (NOTE: A deposit is required by the hotel in order to reserve a guest room.)
How the remaining room charges are to be paid. The hotel will need method of payment for each person responsible for the charges. This information will be reiterated at check-in.