Presenter Information
Regular Session Speaker:
Click here to find out when you're scheduled on the agenda.
Each oral presentation allots 10 minutes for your talk, followed by 5 minutes for questions. If your talk runs long, that will leave less time for questions, so please try to ensure that your presentation is on time. Your moderator will enforce the 15-minute limit for your total presentation.
You may use a PowerPoint presentation, as there will be AV available in the auditorium. However, the week is packed with presentations, and we need to receive your presentation AV far enough in advance to check each file and organize them so that the meeting runs smoothly and on time in the auditorium. So have your PowerPoint presentation ready well in advance, and send it to tamar@ufl.edu by July 12th to ensure that it is available in the Auditorium.
Lightning Round Speaker:
Click here to find out when you're scheduled on the agenda.
This year, in addition to regular talks, MMM4 is offering two special Lightning Rounds directly preceding the Poster Sessions. You are encouraged to use the 3-minute talk time to give a broad overview of your research and its significance, as well as to encourage the audience to seek you out during the poster session directly following the session to find out more.
Here are some examples of short talks that might help you envision your presentation:
http://www.ted.com/talks/patience_mthunzi_could_we_cure_hiv_with_lasers
http://www.ted.com/talks/nina_tandon_could_tissue_engineering_mean_personalized_medicine
http://www.ted.com/talks/lee_cronin_print_your_own_medicine
http://www.ted.com/talks/damian_palin_mining_minerals_from_seawater
Remember: Each Lightning Round talk is only 3 minutes long. Moderators have been instructed to be vigilant about enforcing this limit. Please stick to the time limit to ensure that you get to end your talk with a bang!
Poster Presenter:
The conference plans to feature two 1.5-hour long poster sessions. Your poster session will be assigned in the coming months.
Poster presentations play a key role in MMM4's purpose of raising awareness about current pressing issues and addressing topical challenges associated with mangrove ecosystems, as well as networking to facilitate cooperation and collaboration. Much time will be dedicated to viewing posters during the meeting's breaks, during the Welcome Reception, and during the Poster Sessions, allowing attendees many opportunities to interact and share details of their work.
Poster Specifications: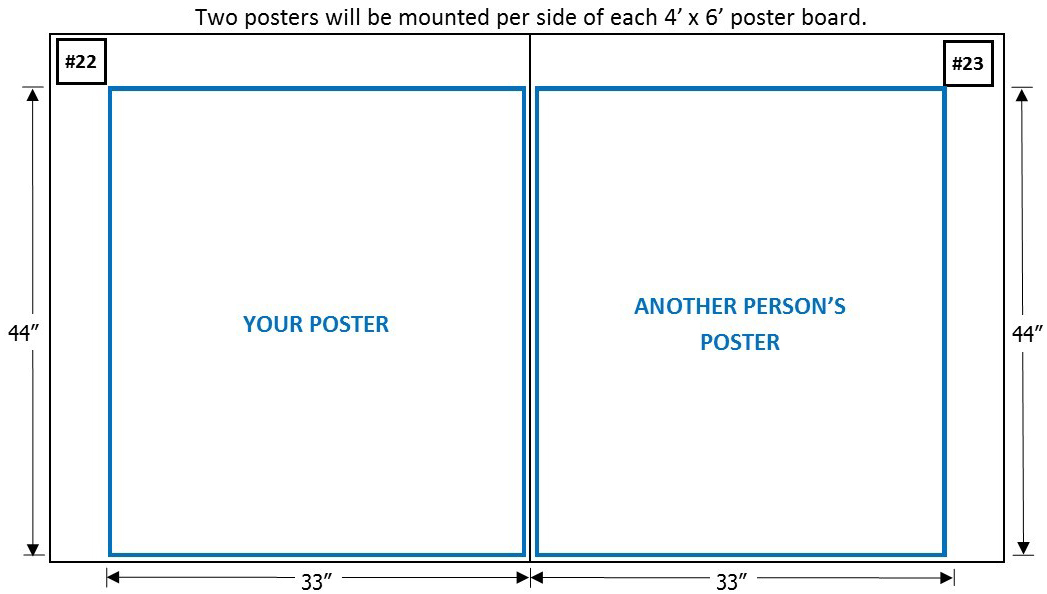 Posters will be limited to 44 inches high x 33 inches wide
(112 cm high x 84 cm wide).
The organizers recommend using a font size of 36 pt. (24-48 pt is standard.)
Due to limited space, two poster presentations will be mounted to each side of the poster boards.
Please follow size limits so you allow a space for a poster number in the upper corner of the board and avoid encroaching on your neighbor's poster display.
Each poster will be assigned a number in advance so that you will know where to place your poster.
Presenters must use the poster boards provided by the Conference.
Poster boards are covered with fabric, and posters can be affixed using either Velcro or ¾" long push pins. Tape is not permitted. A limited supply of Velcro tape will be available for your use during mounting, but you may also bring extra for yourself.
Early morning, mid-day and afternoon refreshments will be served in the poster room each day, in addition to the Welcome Reception and two Poster Sessions, allowing plenty of time for visibility and networking.
Printing your poster
You may choose to print your poster before arrival and carry it with you as you travel. However, if you prefer, you may use a recommended printer in St. Augustine who has agreed to deliver posters to us at the conference on the morning of Monday, July 18th. If you go this route, please contact:
PIP Marketing Signs Print
216 State Road 312 • St. Augustine, FL 32086
Phone 904.825.2372 • Fax 904.825.2373
sapip@bellsouth.net • www.sapip.com

.