Overview
This year we gather in person and virtually to bring the horticulture volunteers of UF/IFAS the most up-to-date, relevant, and interesting information that will help them make a difference.
The Florida Master Gardener Volunteer program continues to engage with our Florida residents and provide the most trusted horticulture information and education that we can deliver.
On behalf of the state conference committee and host Osceola County, it is my pleasure to welcome you to the 2022 Master Gardener Volunteer state conference.
There will be three tracks of presentations: food systems, Florida-Friendly Landscaping™, and topics on troubleshooting garden and landscape problems.
We are bringing back the "Fun Workshops" for hands-on learning, too!
This conference is an excellent opportunity for education, inspiration, sharing of ideas, meeting old friends, and making new ones. We will also be honoring special Master Gardener Volunteers for their years of service and announcing the Awards of Excellence winners, as well as Legacy Award winners.
---
Welcome back to the Florida Master Gardener Volunteer Advanced Training Conference!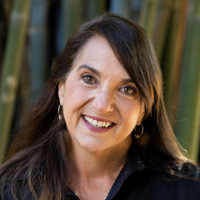 Wendy Wilber
State Master Gardener Coordinator
UF/IFAS Extension
Gainesville, FL