We are pleased you wish to register for this meeting but, advance registration is closed. We will be happy to register you onsite.
Registration Fee Schedule
Attendee
Regular Reduced Registration Fee (Ends Feb 1)
Late Registration Fee (Begins Feb 2)
Administrative Heads Section – Southern Region (S-AHS)
$560.00
$610.00
Southern Association of Agricultural Experiment Station Directors (SAAESD)
$560.00
$610.00
Association of Extension Administrators (AEA)*
$535.00
$585.00
Association of Sothern Region Extension Directors (ASRED)
$560.00
$610.00
Council for Agricultural Research, Extension and Teaching – Southern Region (S-CARET)
$560.00
$610.00
Association of Research Directors (ARD)*
$535.00
$585.00
Academic Programs Section – Southern Region (S-APS)
$560.00
$610.00
*These categories include attendance on Tuesday & Wednesday only.
OPTIONAL Tour - Thursday, March 21: Port Everglades & UF/IFAS Ft. Lauderdale Research & Education Center Space is limited. Accompanying guests may participate by paying the optional tour fee.
Tour Fee (Tour registration closes March 1 or once tour fills.)
$ 60.00
Guest Fee (18 years of age and older)
Registration Fee
Full Guest Fee (includes three continental breakfasts, the reception on Tuesday and dinner on Wednesday.
$140.00
Tuesday Guest Fee (Includes Tuesday continental breakfast and evening reception only)
$60.00
Wednesday Guest Fee (Includes Wednesday continental breakfast and dinner only)
$65.00
Note: The Guest Fee is not for use by co-workers
What Does the Registration Fee Include?
Attendee
The registration fee provides full participation in the conference, meals delineated on the agenda including morning, mid-day and afternoon breaks, Tuesday Night Welcome Reception, Wednesday Evening Dinner Banquet, and the Thursday Evening Closing Reception.
NOTE: The AEA and ARD fees do not include participation in any Thursday meal events.
Guest Fee
The guest fee allows guests 18 years of age and older to attend functions included with each applicable guest fee category listed above.
Tour Fee
The tour fee includes bussing, a tour of Port Everglades, the educational program and lunch.
Refund Policy
All refund requests must be received in writing by February 15, 2019. A processing fee of 50% will be deducted from all refunds (registration or tours). After February 15, no refunds will be issued.
Special Needs
Participants with special needs can be reasonably accommodated by contacting Ms. Kimberly Brand, Registrar at the Office of Conferences & Institutes, at least 30 days prior to the conference. She can be reached by email at kimmer72@ufl.edu, by phone at 1-352-392-5930, by FAX at 1-352-392-4044, or by calling 711 TTY/TDD.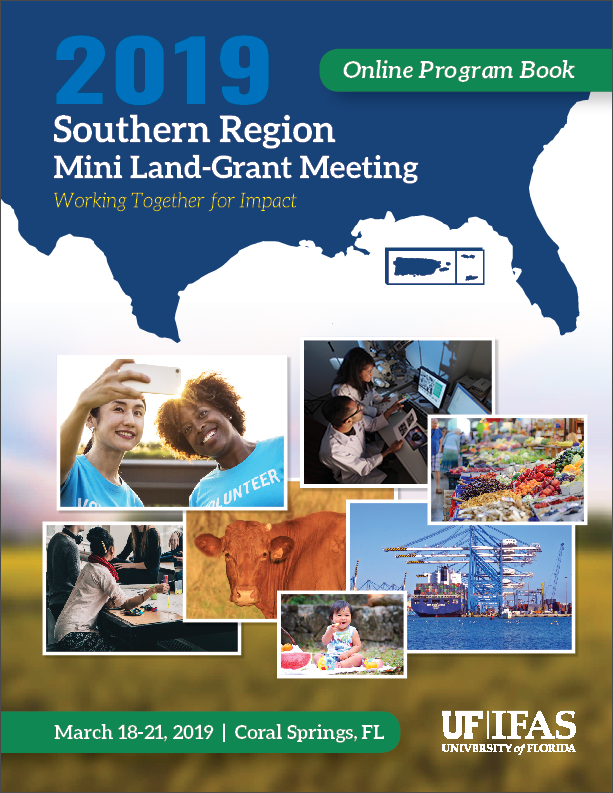 Click the thumbnail to view the online program book for the 2019 Southern Region Mini Land-Grant Meeting
Important Deadlines
Advanced registration is now closed but, we will be happy to register you onsite.