Optional Post-Conference Tour
Thursday, March 21, 2019
10:00am – 4:00pm
$60.00/person
(Accompanying guests may also sign up for the tour by paying the fee to participate. Space is limited.)
This year's meeting features a tour of Port Everglades and the UF/IFAS Fort Lauderdale Research and Education Center (FLREC).
Deadline to register and sign up for tour: March 1, 2019
---
Field Tour Itinerary
| | |
| --- | --- |
| 10:00am | Group gathers in bus loading zone at Coral Springs Marriott [Conference Center Entrance] |
| 10:15am | Participants board bus |
| 10:30am | Bus departs for the Port |
| 11:00am | Bus arrives at the Ft. Lauderdale Port Authority |
| 12:45pm | Group Luncheon at UF/IFAS REC |
| 1:45pm | Group tours UF/IFAS REC |
| 4:00pm | Arrive at Coral Springs Marriott – Program Concludes |
Note: Due to advance security screening requirements, all field trip participants must be US citizens and are required to provide their legal name, driver's license information, birth date and full contact information when registering for the field trip. Onsite enrollment is not permitted.
---
Port Everglades & USDA APHIS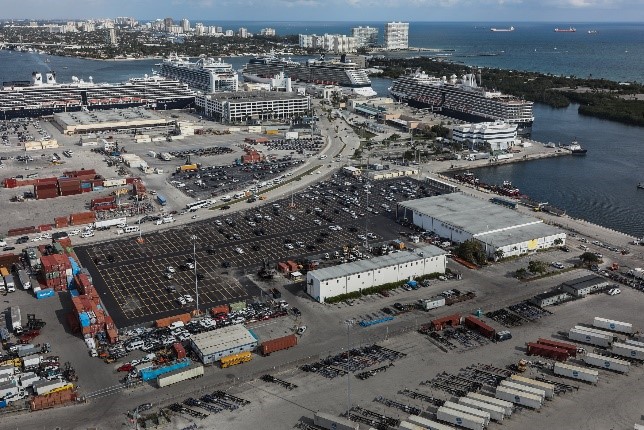 Aerial image over Port Everglades, Florida
The gateway for international trade and cruise vacations, Port Everglades is ranked among the top three busiest cruise ports in the world, and one of the nation's leading container ports, handling more than one million TEUs annually (twenty-foot equivalent units - a measure used for capacity in container transportation). Port Everglades is also South Florida's main seaport for receiving petroleum products including gasoline, jet fuel and alternative fuels, and Florida's No. 1 seaport for handling refrigerated cargo. Located on 2,200 acres, the port spans the geographic boundaries of three Florida cities (Hollywood, Fort Lauderdale and Dania Beach) where more than $30 billion in cargo is loaded and unloaded a year.
Exotic pests, diseases and weeds can hitch a ride to the US within vessels, shipping containers and break-bulk cargo. If they establish here they can wipe out entire food crops, harm our animals and damage our beautiful environment. USDA APHIS plays a vital role in keeping U.S. agricultural industries free from pests and diseases. Imported containerized cargo is regularly inspected for potentially dangerous insects. If a specimen is found, it needs to be identified quickly, so that cargo can be released if the insect is harmless, or if the insect poses a potential invasive threat, appropriate action may be taken. The tour features a presentation about USDA's pest identification laboratory and pest identification activities. You'll also learn USDA'S tarpless fumigation system that was installed to fumigate containers for microscopic-sized non-indigenous pests in a faster method that doesn't change the temperature of the container so that the fruits and vegetables stay fresher and have a longer shelf life, benefiting both shippers and shoppers.
---
Fort Lauderdale Research & Education Center (FLREC)
Termites, pythons and lizards, oh my!
This segment of the tour includes presentations by two esteemed researches and tours of their research labs.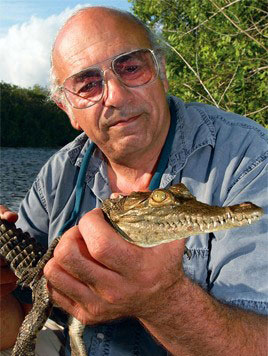 Dr. Frank Mazzotti is a Professor of Wildlife Ecology, and specializes in alligators, crocodiles and, more recently, Burmese pythons and tegu lizards. Mazzotti leads a team called the "croc docs" – a group of biologists, ecological modelers, and outreach specialists working at the forefront of wildlife research in south Florida and the Caribbean. The team conducts long-term, applied research and monitoring focused on crocodilians, invasive reptiles, threatened and endangered species, climate change, and human dimensions. One of their projects is to track how far and fast Burmese pythons move and where they breed. They also analyze the snakes' diet to determine which native species are most at risk—all in hopes of finding ways to control and remove them.
While pythons have received a majority of public attention, invasive lizards also pose a significant threat to southern Florida's native wildlife and ecosystems. The Argentine black and white tegu has been introduced through the pet trade and has established breeding populations in central and southern Florida. The University of Florida research team is collaborating with several state and federal partners to contain and reduce the tegu population. Mazzotti will speak on some of his current projects, followed by a tour of his research lab where you'll get to meet a tegu lizard and an American crocodile up close up!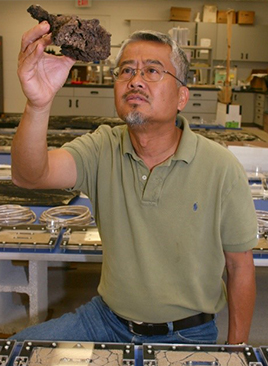 Dr. Nan-Yao Su, Distinguished Professor, Urban Entomology, is a nationally and internationally recognized authority on termites and is known for his innovative approach for their population management. His studies on the population ecology of subterranean termites and slow-acting toxicants led to the development of a baiting system for population control of these cryptic pests.
For much of the 20th century, the standard treatment for subterranean termites involved application of liquid insecticide to soil around the exterior of a building. This method was not environmentally sustainable and not always successful at stopping infestations because it only killed termites in the treated area. Subterranean termites can travel hundreds of feet from their nests to forage.
Beginning in the late 1980s, Su and Dow scientists pioneered a safe, effective new approach to termite management, using a slow-acting compound called hexaflumuron. It kills termites by interfering with their molting process. The team incorporated hexaflumuron into a bait that could be placed underground in feeding stations. Commercialized as the Sentricon system, it has been marketed in 18 countries since 1995 to protect over three million homes, and reduced pesticide use by > 9,000 metric tons. Dr. Su will share some of the background on his work with termites, followed by a tour of his research lab where he studies the behavior and ecology of subterranean termites to develop control measures suitable in urban settings.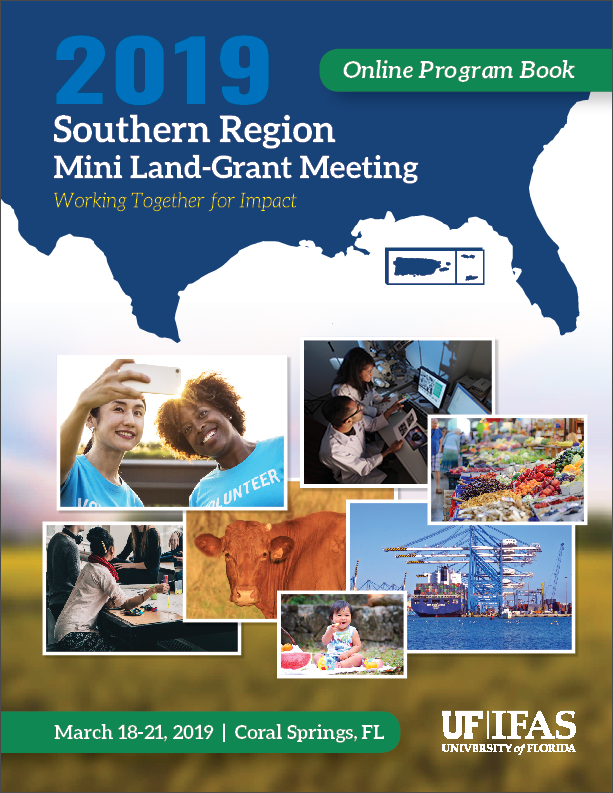 Click the thumbnail to view the online program book for the 2019 Southern Region Mini Land-Grant Meeting
Important Deadlines
Advanced registration is now closed but, we will be happy to register you onsite.