Benefits of Attending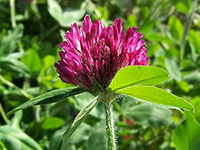 If your work focuses on using applied genetics, biotechnology, phenomics and/or genomics to accelerate forage, turfgrass and/or bioenergy cultivar development, you should attend this conference. When you leave IFTBC, you will walk away with the most up-to-date information on novel tools applied in crop improvement, and garner many additional valuable benefits such as networking with worldwide colleagues.
You'll learn the latest on:
Better methods to advance the breeding and genetic science through the sharing of the most current scientific research being conducted in the worldwide community
Ways to enhance your breeding program through accelerated breeding methods for a wide variety of desirable traits such as yield, quality and improved disease resistance
How to identify target traits that will help maximize higher profits for the producer community
Additional benefits include:
Networking with other forage and turfgrass professionals, scientists
Recruiting students, postdocs and visiting scientists for your lab/company
Increasing your professional development and presence in the worldwide forage, turfgrass and bioenergy breeding and genetics community
Opportunities to facilitate and encourage scientific collaboration and team building among attendees to enhance research progress in the future
Receiving an electronic compilation of cutting edge oral and poster presentations well before they appear in traditional print journals
In today's fast moving breeding and genetics research community, the IFTBC conference will provide a valuable opportunity to discuss results of new and innovative genetic improvement tools, exchange ideas of trends and potential for genetic improvement, and promote networking and collaboration among practitioners, scientists, researchers, students and industry professionals.
Take advantage of this opportunity that only occurs once every three to four years and make plans to join us!
Not sure if this conference is for you? Click here to find out Who Should Attend.
Special Thanks to Our Diamond Sponsor!