Sponsorship Opportunities
Organizations, private sector firms and government agencies are invited to become supporting partners in hosting the Greater Everglades Ecosystem Restoration Science Conference (GEER 2019). Take advantage of this occasion to generate visibility for your organization and make new contacts with governmental, private, non-profit, and contracting organizations.
Sponsorship must be received by April 5, 2019 to be recognized in print.
Benefits of Sponsorship
Interact with key decision makers
Showcase your organization to governmental, private, non-profit and contracting organizations
Increase brand awareness within niche community
Reinforce your continued commitment to ecosystem restoration
Enhance your prominence as a community leader
Generate leads for new projects and potential contracts
Snapshot of Attendee Composition
Here's a snapshot of the GEER audience. For a detailed list of organizations who frequently attend, visit the Sponsorship Prospectus linked below.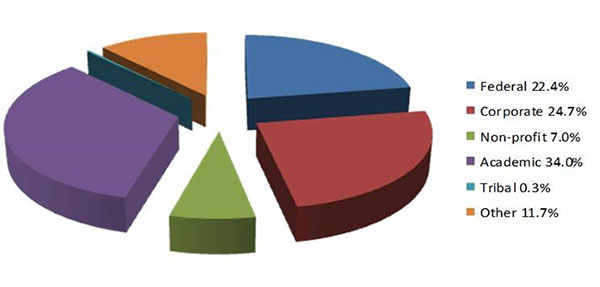 Sponsorship Levels
Sponsorship Benefit
Gold $10,000
Silver $5,000
Bronze $2,000
Complimentary registrations
3
2
1
Space for six-foot table top display
2 tables
1 table
1 table
Logo on Front Cover of Program Book
Quarter-page recognition in the onsite program book
Logo listed on web site under partnering organizations
Option to give away door prizes in the Poster & Sponsor Display Area
Logo included in Publicity Emails
Post-conference list of attendees
Recognition on the back cover of the Printed Program Book
Recognition on GEER Facebook Page
Recognition on Conference Website
Recognition on slides in session rooms
Recognition on conference signage
Recognition during opening plenary
Recognition in Printed Program Book
Not seeing the perfect package?
If you are interested in contributing to GEER 2019 in a way not listed in our sponsorship options, please contact Beth Miller-Tipton at bmt@ufl.edu. We would be happy to create a custom sponsorship option to best fit your organization.

Sponsorship opportunities will be made available for companies and organizations interested in supporting the conference and generating engagement with attendees. If you are interested in becoming a sponsor, contact Beth Miller-Tipton, the Conference Coordinator, at bmt@ufl.edu.