Meeting Purpose
Working Together for Impact
The Southern Region of the U.S. has abundant opportunity as well as some enduring challenges in ensuring a safe and profitable food system, community and individual economic vitality and a healthy citizenry. The 2019 Southern Region Mini Land-Grant Meeting brings together leaders from seven groups from both 1862 and 1890 Land-Grant universities to explore avenues for improving the roles of each group and Land-Grant functions as a whole. These seven groups, including university administrators and their stakeholder representatives, are:
Administrative Heads Section - Southern Region (S-AHS)
Academic Programs Section – Southern Region (S-APS)
Southern Association of Agricultural Experiment Station Directors (SAAESD)
Association of 1890 Research Directors (ARD)
Association of Southern Region Extension Directors (ASRED)
1890 Association of Extension Administrators (AEA)
Council for Agricultural Research, Extension, and Teaching – Southern Region (S-CARET)
The primary purpose for this meeting is to foster interactive discussions, planning, and actions across all participating administrative units to enhance effectiveness of Land-Grant agricultural colleges' programs, processes, and impacts through greater integration and collaboration throughout the Southern US. This will be an opportunity to jointly examine common issues, explore best practices, and initiate new partnerships with colleagues and key stakeholders, both within your state and across the region. There will also be time for each organization to meet separately or jointly with another one, to conduct business and discuss issues specific to your group, as well as time for informal social interaction between all participants.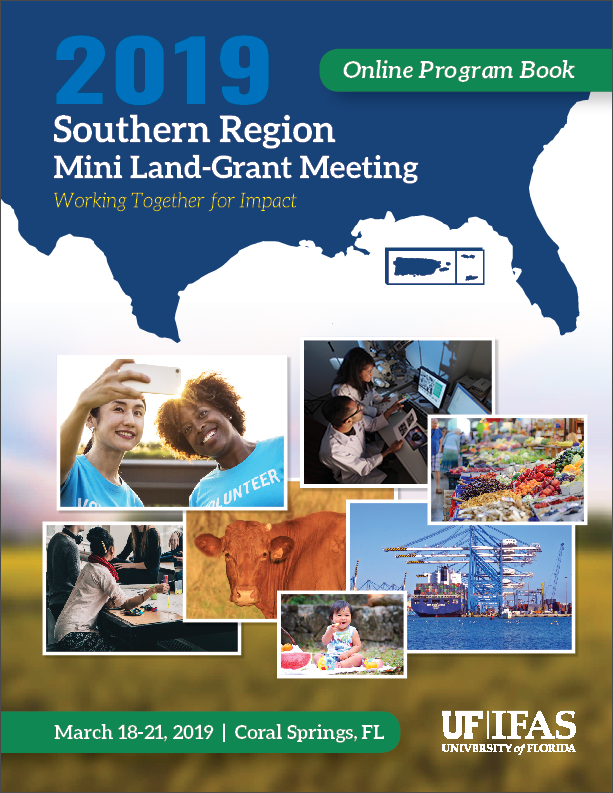 Click the thumbnail to view the online program book for the 2019 Southern Region Mini Land-Grant Meeting
Important Deadlines
Advanced registration is now closed but, we will be happy to register you onsite.