27th Annual School of
STRUCTURAL FUMIGATION
---
Monday, November 17 through Friday, November 21, 2014
Florida State Exams: Saturday, November 22, 2014
---
University of Florida | Fort Lauderdale Research and Education Center
3205 College Avenue | Davie, Florida 33314

This unique course offers:
a complete review of all technical aspects of structural fumigation

instruction by a team of over 15 qualified and experienced professionals, manufacturer reps and University of Florida faculty

a combination of classroom and field demonstrations

hands-on training with fumigation equipment including: fumiscope, interscan, SF ExplorIR, rate calculators and SCBA

instruction in avoiding costly fumigation errors with "tips from the professionals"

updates on recent fumigation research and changes in labeling and regulations

limited class size allows more individual attention for participants

Florida's SPID and fumigation examinations offered by FDACS at the completion of the course

instruction in identifying structural pests controlled by fumigants
The Only Program of its Kind in the World

All Students Receive New Labelling Manuals for All Fumigant Products

Hands-on Instruction from Some of Florida's Top Fumigators

Scenic Tropical South Florida Location

Sixth Year!: Fumigating for Bed Bugs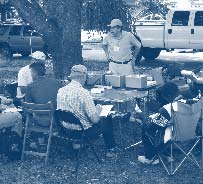 JOIN THE MANY COMPANIES that have wisely taken advantage of this unique educational opportunity. There is a demand for highly qualified, trained fumigators. Significantly more people pass the Fumigation and SPID exam upon completion of the course and review.
This one-week course is organized and sponsored with the help of fumigation industry members, manufacturers, suppliers, FDACS personnel, and University of Florida faculty. Instruction is given by a team of qualified and experienced professionals with expertise in structural fumigation.
All aspects of structural fumigation will be covered. Activities include 38 hours of classroom, lab, and workshop instruction plus two actual on-site structural fumigations.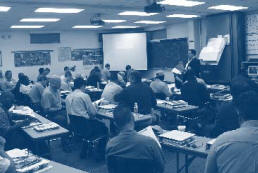 FUMIGATION PROFESSIONALS . . .
Are you missing business opportunities because you are unaware of recent technological changes? Are you taking advantage of improvements in fumigation practices? Are you aware of changes in rules, regulations, and fumigant labeling? Do you have the time and facilities to provide your employees a thorough education in structural fumigation techniques?
ENROLL NOW!
The opportunity is here — all you have to do is take advantage of it! Program is limited to a maximum of 48 students (minimum 25).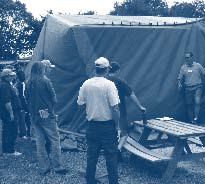 "I was extremely impressed with the training at the…School of Structural Fumigation. The expert instruction, course work and opportunities for hands on learning … has direct applicability to those performing structural fumigation … or for [those] who regulate this pest control service. I fully recommend this course for both the fumigator and government official."
Michael J. Page
Chief, Bureau of Entomology & Pest Control,
Florida Dept. of Agriculture & Consumer Services
---
"The UF Fume School is by far the most complete course for fumigation. The on-site instruction for the actual structural fumigation process is unbeatable for a direct and hands-on approach to learning."
Sean Brantley
Certified Fumigator and former Chair,
Florida Fumigation Advisory Council
---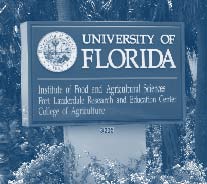 "I have attended many symposiums, conventions, several college provided training schools, and many ceu classes. None came close to matching the level of training I received at the fumigation school.

"Thanks again for all the work put in to making the Structural Fumigation School the best training I've received in 30 years."

Richard Burke
Chipley, Florida
2005 Fumigation School Student

MONDAY, NOVEMBER 17
~ Morning Schedule ~

7:30

Registration

8:00

Orientation

8:30

Welcome

8:50

School History, Fumigation Manual

9:15

Break

9:30

Vehicles/Transport/DOT

10:30

Measure/Graph

11:30

Lab: Measuring Models

~ Afternoon Schedule ~

12:00

Group Lunch

1:00

Lab: Measuring Models

1:45

Team Assignments/Procedures

2:00

Outdoor Activities (30 min each)

1) Sealing Techniques

2) DOT Truck Demo

3) Clamping Techniques

4) Rolling and Storage

4:30

Clean-up

4:45

Review

5:00

Adjourn
TUESDAY, NOVEMBER 18
~ Morning Schedule ~

7:30

Quiz

8:00

Dosage Calculation - Dow Calculator

8:30

Dosage Calculation - Ensystex Software

9:00

Dosage Calculation Lab

9:30

Break

9:45

Physical Properties

10:45

Introducing Vikane

11:45

Monitoring

~ Afternoon Schedule ~

12:15

Group Lunch & Termite Detection Equipment

1:15

Equipment Workshop (30 min each)

1) Introduction of Vikane

2) Monitoring Equipment

3) Clearance of Vikane

4) SCBA

4:00

Fumigation Economics

4:45

Review/Homework Assignment

5:00

Adjourn
WEDNESDAY, NOVEMBER 19
~ Morning Schedule ~

7:30

Quiz

8:00

Safety with Fumigants

9:00

Interior Prep, Homeowner Checklist

10:00

Break

10:15

Vikane Aeration Procedures

11:00

Fumiguide Homework Review

11:45

Soil Classification & Characteristics

~ Afternoon Schedule ~

12:15

Site Lunch, Observe Tenting Procedures

1:00

First Fume Site Stations (20 min each)

1) Interior Preparation

2) Exterior Preparation

3) Dosage/HLT Calculation

4) Shooting Set-Up

2:30

Review

2:40

Vikane Introduction, Shoot Truck Setup

3:00

Second Fume Site Stations (20 min each)

1) RDA Fumiscope

2) Measuring Practice

3) Leak Checks, QAR

4) Standard Fumiscopes

4:30

Fog-Out, Damage Demonstration

5:00

Review/Homework Assignment

5:15

Adjourn
THURSDAY, NOVEMBER 20
~ Morning Schedule ~

7:30

Quiz

8:00

Site: Tarp Removal, Storage, Aeration

8:45

State Fumigation Inspections

9:30

Dosage Calculation Review

10:00

Break

10:15

Target Pests

11:15

Target Pest ID Lab

~ Afternoon Schedule ~

12:00

Group Lunch

1:00

USDA Quarantine Fumigations

1:30

Commodity Fumigation

2:30

Fume Site Stations (20 min each)

1) Clearance Testing

2) Interscan Calibration

3) HLT/Dosage Review

4) Site Clean-up Review

3:50

Target Pest, Landscape Toxicity

4:30

Review of Florida State Laws

5:30

Adjourn
FRIDAY, NOVEMBER 21
~ Morning Schedule ~

7:30

Alternative/Partial Treatments

8:15

Local Chemical Treatment

8:30

Team Problem Solving

9:00

Team Presentations

9:45

Break

10:00

Specialty Jobs 1

10:40

Specialty Jobs 2

11:00

Fumigation of Insects

~ Afternoon Schedule ~

12:00

Final Exam

1:00

Awards Luncheon

CONCLUSION (if not taking State Exam Review)

2:00

SPID & FL Fume Exam Review (optional)

5:00

Adjourn
SATURDAY, NOVEMBER 22
~ Morning Schedule ~

8:00-12:00

Fumigation Exam (4 hours)
SPID Exam (3 hours)
for those wishing to be a Certified Operator
or SPID cardholder in Florida

The Florida Department of Agriculture & Consumer Services (FDACS) is offering the Special ID Card (SPID) and Fumigation Exams on Saturday, November 22, 2014 in conjunction with the School of Structural Fumigation. If interested in taking either exam, please complete and submit a FDACS exam application along with the required fees to: Bureau of Entomology & Pest Control, FDACS, P. O. Box 6710, Tallahassee, FL 32314-6710, postmarked on or before October 15, 2014. For applications or if you have questions, please call the Bureau directly at 850-617-7997; ask for the "Exam Desk".

FDACS EXAM FEES*:
| | |
| --- | --- |
| $200 | SPID Exam (Special Identification Card - Fumigation) |
| $300 | Fumigation Certification Exam |
* Fees are to be paid directly to FDACS as instructed above.

IMPORTANT REMINDER: The application deadline to take an examination is October 15, 2014.

Examination Preparation: Throughout the course, we'll cover most of the material on the certification exams. We also highly recommend that you register for the exam review session (for a nominal fee of $25) to be held on Friday, November 21st from 2-5pm. The review is conducted by an instructor from FDACS Bureau of Entomology and Pest Control. When registering for the Fumigation School, be sure to indicate if you are attending the review session.

Return to Index
Continuing Education Units (CEUs)
for Florida License Holders
After completing the course, certified operators and SPIDs can receive up to six CEUs (two Core, two Termite, two Fumigation). Requirements for awarding CEUs vary by state. Ask your state Certification Office about CEU and renewal requirements. Fumigators wishing to earn CEUs and have them applied toward license renewal must present a Commercial, Public and/or Private License. For questions about CEUs, contact: Dr. Rudolf H. Scheffrahn, Phone: (954) 577-6312; Email: rhsc@ufl.edu
A Certificate of Completion and a copy of the program agenda are provided at the end of the course. To apply for CEUs from your state, contact your state's licensing office and provide them with these materials to determine if you are eligible for CEUs.
REGISTER NOW! SPACE IS LIMITED!
Course is limited to a minimum of 25 and a maximum of 48 students.

To Qualify for the Early Bird Discount, register by October 15.
Cost:
(includes lunch each day, all course materials, certificate of completion, and much more!)

Florida Resident Early registration by October 15, 2014
$475
Non-Florida Resident Early registration by October 15, 2014
$550
Regular registration after October 15, 2014
(for both residents and non-residents)
$600
Optional FDACS Exam Review Course (Fri., Nov. 21)
$25
Space in program will not be reserved until payment is received.

Remember to register with FDACS if taking the state exam.
Refund Policy: Requests for registration refunds will be honored if written notification of cancellation is received by the Office of Conferences on or before November 3, 2014. A $125.00 processing fee will be deducted from all refunds. Sorry, no refunds will be honored for cancellations after November 3, 2014.
Lodging Information & Directions
Area hotels fill up quickly in November. Make your reservations early.
There are over 10 hotels within 3 miles of the Fort Lauderdale Research and Education Center, mostly in the city of Plantation.
Holiday Inn Express & Suites is offering discounted rates for those attending the Fumigation School: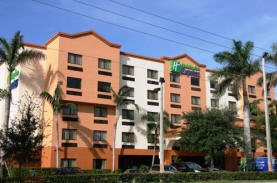 Holiday Inn Express & Suites
2540 Davie Rd.
Davie, FL, US, 33317
Phone: (954) 585-7071
Fax: (954) 761-4293
Standard King
$119.00
+ 11% state and local taxes
Reservations must be made by the October 17, 2014 Cut-off Date. After that date, there is no guarantee that the rate or block of rooms will be available.

Reservations: Call 1-800-465-4329 to make a reservation.
- When making reservations reference "UFL Fume School."
- Distance to school, 1 mile.

CLICK HERE for printable Holiday Inn Express brochure
---
Ft. Lauderdale, Florida has a sub-tropical climate with warm weather almost year round. November is the final month of the storm and rainy season. During the Fumigation School, it is usually warm with some humidity during the day with temperatures usually in the high 70s to mid 80s. Nighttime temperatures are in the 70s. Rain showers may occur at any time, especially in the afternoon. Check current, local weather conditions in Ft. Lauderdale below:
Program & Training Information:

Dr. Rudolf H. Scheffrahn
Professor of Entomology
University of Florida/IFAS
Ft. Lauderdale Research and Education Center
3205 College Ave.
Ft. Lauderdale, FL 33314-7799
PHONE: (954) 577-6312
FAX: (954) 475-4125
EMAIL: rhsc@ufl.edu

Renny Perez

Director, School of Structural Fumigation

University of Florida/IFAS

Ft. Lauderdale Research & Education Center

3205 College Avenue

Davie, FL 33314-7799

PHONE: (786) 302-4767

Registration Information:

Kim Brand
Registrar

University of Florida/IFAS
Office of Conferences and Institutes (OCI)
PO Box 110750
Mowry Road Building 78
Gainesville, FL 32611 USA
PHONE: (352) 294-3576
FAX: (352) 392-9734
EMAIL: kimmer72@ufl.edu
You are visitor number:
since 8/19/14.
This page is designed and maintained by the UF/IFAS/OCI Graphics Editor and Webmaster.