Duval County
September 30 - November 22, 2021
(Live ONLINE & On your own)
Class filled. Contact Instructor for wait list.
(Course Code: us21-03)


Instructors Information
Lead and Point of Contact: Carol Wyninger, Volunteer
Organization: UF/IFAS Extension Duval County
Phone: 904-220-0232
Email: wyninger@comcast.net

Lead: Cassidy Dossin, Agriculture and Natural Resources Agent I, UF/IFAS Extension Clay County
Associates: Elizabeth (Beth) Strawbridge, Volunteer, North Florida Land Trust (NFLT)
Larry Figart, Urban Forestry Extension Agent, UF/IFAS Extension Duval County
Cassidy Dossin, Agriculture and Natural Resources Agent I, UF/IFAS Extension Clay County
Assistants: Allan Hallman, FWC Biologist and Lauren Watkins, Principal/ Social Science, Research,
and Behavior Change Impact by Design
Tentative Course Agenda
Day 1
Thursday September 30, 2021
LIVE ONLINE MEETING (Zoom)
Zoom meeting link provided by email
6:30pm –8:30pm

Welcome to FMNP course & Introductions (60 min.)
Break (15 min.)
Getting comfortable with Zoom/testing equipment (15 min.)
Review instructions for "on your own" assignments (15 min.)
Course Pre-test (15 min.)

ON YOUR OWN
Instructions and online links provided by email
60 minutes (total)

View Journaling Tutorial (30 min.)
Set up journal format, first journal entry (30 min.)

Day 2
Monday October 4, 2021
LIVE ONLINE MEETING (Zoom)
Zoom meeting link provided by email
6:30pm – 8:45pm

Journal sharing and discussion (15 min.)
Ecology presentation w Q&A (60 min.): Carol Wyninger
Break (15 min.)
Final group project discussion, form groups (30 min.)
Wrap-up, Q&A, intro to on your own assignment (15 min.)

ON YOUR OWN
Instructions and online links provided by email. Complete and turn in before next Zoom class .
75 minutes (total)

Journal entry (15 min.)
Watch Pine Habitats video and complete Reflection Activity (60 min.)
Group meetings, prepare Group Project Worksheet (due date TBA)

Day 3
Thursday October 7, 2021
LIVE ONLINE MEETING (Zoom)
Zoom meeting link provided by email
6:30pm –8:30pm

Interpretation presentation w Q&A (60 min.): Lauren Watkins
Break (15 min.)
Interpretative Speaking example, creating a theme (30 min.) Wrap-up, Q&A, intro to on-your own activity (15 min.)

ON YOUR OWN
Instructions and online links provided by email. Complete and turn in by due date in agenda
75 minutes (total)

Journal entry (15 min.)
Prepare Interpretive Speaking outline (60 min., due date TBA)

Day 4
Tuesday October 12, 2021
LIVE ONLINE MEETING (Zoom)
Zoom meeting link provided by email
6:30pm – 8:30pm

Pinelands Communities presentation with Q&A (60 min.): Larry Figart
Break (15 min.)
Reflection Activity Pine Habitats discussion (15 min.): Larry Figart
Activity: Dichotomous Keys, pine identification (15 min.)
Wrap-up, Q&A, intro to on your own assignment (15 min.)

ON YOUR OWN
Instructions and online links provided by email. Complete and turn in by due date in agenda.
195 minutes (total)

Journal entry (15 min.)
Visit a pine-forested habitat and complete Field Activity Pine Forests (180 min.)

Day 5
Thursday October 14, 2021
LIVE ONLINE MEETING (Zoom)
Zoom meeting link provided by email
6:30pm –8:30pm

Invertebrates 1 presentation w Q&A (60 min): Cassidy Dossin
Break (15 min.)
Invertebrates 1 continued (30 min.)
Wrap-up, Q&A, intro to on your own assignment (15 min)

ON YOUR OWN
Instructions and online links provided by email
15 minutes (total)

Journal entry (15 min)

Day 6
Monday October 18, 2021
LIVE ONLINE MEETING (Zoom)
Zoom meeting link provided by email
6:30pm – 8:30pm

Birds 1 with Q&A (60 min): Carol Wyninger Break (15 min.) Field Activity Pine Forests discussion (30 min.)
Wrap-up, Q&A, intro to on your own activity (15 min.)

ON YOUR OWN
Instructions and online links provided by email. Complete and turn in before next live Zoom session.
75min (total)

Journal entry (15 min.)
Watch Hardwood Forests video and complete Reflection Activity Hardwood Forests (60 min.)

Day 7
Thursday October 21, 2021
LIVE ONLINE MEETING (Zoom)
Zoom meeting link provided by email
6:30pm-8:30pm

Hardwood Forests presentation (60 min.) w Q&A
Break (15 min.)
Reflection Activity Hardwood Forests discussion (15 min.)
Activity: Oak and acorn identification (15 min.)
Wrap-up, Q&A, intro to on your own activity (15 min.)

ON YOUR OWN
Instructions and online links provided by email. Complete and turn in by due date in agenda.
195 minutes (total)

Journal entry (15 min.)
Visit a hardwood forest and complete Field Activity (180 min.)

Day 8
Monday October 25, 2021
LIVE ONLINE MEETING (Zoom)
Zoom meeting link provided by email
6:30pm – 8:30pm

Mammals presentation w Q&A (60 min.): Allan Hallman
Break (15 min.)
Mammals continuation (30 min.)
Wrap-up, Q&A, Intro to on-your-own assignments (15 min.)

ON YOUR OWN
Instructions and online links provided by email. Complete and turn in before next live Zoom session.
75 minutes (total)

Journal entry (15 min.)
Scat Activity (60 min.)

Day 9
Thursday October 28, 2021
LIVE ONLINE MEETING (Zoom)
Zoom meeting link provided by email
6:30pm-8:30pm

Birds 2 with Q&A (60 min.): Carol Wyninger
Break (15 min.)
Field Activity Hardwood Forests discussion (30 min.)
Wrap-up, Q&A, intro to OYO assignment (15 min.)

ON YOUR OWN
Instructions and online links provided by email. Complete and turn in before next live Zoom session.
75 minutes (total)

Journal entry (15 min.)
Watch Scrub, Dry Prairie, and Range video and complete Reflection Activity Scrub, Prairie, and Range (60 min.)

Day 10
Monday November 1, 2021
LIVE ONLINE MEETING (Zoom)
Zoom meeting link provided by email
6:30pm – 8:30pm

Scrub, Dry Prairie, and Range presentation w Q&A (60 min.): TBA
Break (15 min.)
Reflection Activity Scrub, Dry Prairie, and Range discussion (30 min.)
Wrap-up, Q&A, intro to on-your own assignment (15 min.)

ON YOUR OWN
Instructions and online links provided by email
195 minutes (total)

Journal entry (15 min.)
Visit a scrub, dry prairie, or range habitat and complete Field Activity Scrub, Prairie, Range (180 min.)

Day 11
Thursday November 4, 2021
LIVE ONLINE MEETING (Zoom)
Zoom meeting link provided by email
6:30pm – 8:30pm

Herptiles presentation w Q&A (60 min.): Elizabeth Strawbridge
Break (15 min.)
Break-out rooms: Help with interpretive speaking activity and group projects (30 min.)
Wrap-up, Q&A, Intro to on-your-own activities (15 min.)

ON YOUR OWN
Instructions and online links provided by email. Complete and turn in before next live Zoom session.
75 minutes (total)

Watch Upland Systems and Modern Human Society video and complete Reflection Activity Ethics (60 min.)
Journal entry (15 min.)

Day 12
Monday November 8, 2021
LIVE ONLINE MEETING (Zoom)
Zoom meeting link provided by email
6:30pm-8:30pm

Invertebrates 2 w Q &A (60 min.): Cassidy Dossin
Break (15 min.)
Field Activity Scrub etc. discussion (30 min.)
Wrap-up, Q&A, intro to on-your own assignment (15 min.)

ON YOUR OWN
Instructions and online links provided by email.
15 minutes (total)

Journal entry (15 min.)

Day 13
Wednesday November 10, 2021
LIVE ONLINE MEETING (Zoom)
Zoom meeting link provided by email
6:30pm-8:30pm

Environmental Ethics presentation Q&A (60 min.): Cassidy Dossin
Break (15 min.)
Reflection Activity Upland Systems and Humans (30 min.)
Wrap-up, Q&A, intro to on-your-own assignment (15 min.)

ON YOUR OWN
Instructions and online links provided by email
15 minutes (total)

Journal entry (15 min.)

Day 14
Monday November 15, 2021
LIVE ONLINE MEETING (Zoom)
Zoom meeting link provided by email
6:30pm-8:30pm

Interpretive speaking (120 min. includes break)

ON YOUR OWN
Instructions and online links provided by email. Complete and turn in before next live Zoom session.
15 minutes (total)

Final journal entry (15 min.)

Day 15
Thursday November 18, 2021
LIVE ONLINE MEETING (Zoom)
Zoom meeting link provided by email
6:30pm-8:30pm

Group project presentations (120 min. includes breaks)

Day 16
Monday November 22, 2021
LIVE ONLINE MEETING (Zoom)
Zoom meeting link provided by email
6:30pm-8:30pm

Share journals (30 min.)
Make-up time (30 min. w break)
Complete posttest and evaluation (30 min.)
Graduation, course wrap-up (30 min.)
Course Guidelines
Live Online Meeting indicates when you are required to be online (Zoom) at the designated time to participate in course presentations, discussions, and activities. Attendance will be taken by the instructor at each session and at times during the session. To participate, you must have:
Zoom application downloaded to their personal computer or laptop (https://zoom.us/) Other devices are sub-optimal and may not be acceptable. It is best to use the same device throughout the class.
An internet connection suitable for live streaming (wired or wireless)
Headset, or speakers and microphone (most laptops have this included)
Web camera (most laptops have this included). Please position the camera so that your face is visible on the screen. Keep your live video on during the class.
A quiet, distraction-free place to participate.
Schedule Times for Online Class Schedules
The schedule times are listed as closely as possible, but we may need for you to be flexible. We probably will not get out early but may occasionally run a few minutes late. Please arrange your schedule to allow for flexibility.
On Your Own describes required course activities you are expected to complete on your own prior to the Live Online Meeting time indicated on the agenda. Times allotted for the activities are approximate. You may spend more or less time than what is indicated.
Attendance Policy:
You cannot miss more than 8 hours (20% of the 40 contact hours) for a Core Module course. This is a FMNP policy and cannot be modified by the Instructor.
To receive certification, the 8 hours or less missed must be made up by completing an assignment of equal time and content. Approval of the Instructor is required.
If total hours missed exceeds 8 hours, certification is not possible regardless of material made up.
All absences should be discussed with the instructor in advance. In case of emergencies, please notify Instructor as soon as possible.
We are building a legacy of informed citizens to promote awareness, understanding, and respect of Florida's natural ecosystems. To ensure we continue inspiring conservation education and action for decades to come, we need to raise $2 million to establish an endowment for an FMNP Program Leader in perpetuity.
Ripples spread when a single pebble is dropped. Please click here if you wish to contribute to the FMNP Endowment Fund, or contact Dr. Main at mmain@ufl.edu to discuss options for a major gift.
Thank you for your ongoing actions to help conserve Florida's environment for future generations to enjoy!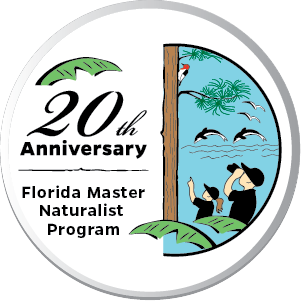 Donate to the FMNP Endowment Fund during 2021 and receive a free, commemorative 20-year anniversary pin.