Volusia County
October 8 - November 12, 2021
(In-person and On Your Own Assignments)
Class filled. Contact Instructor for wait list
(Course Code: fs21-11)
Classroom Facilities Information
UF/IFAS Volusia County Extension Office
3100 E New York Ave, DeLand 32724
Blue Spring State Park
2100 W French Ave, Orange City, FL 32763
Longleaf Pine Preserve
3736 E New York Ave, DeLand, FL 32724
Hontoon Island State Park
2309 River Ridge Road, DeLand FL 32720
De León Springs State Park
601 Ponce Deleon Blvd, De Leon Springs, FL 32130
The Sandra Stetson Aquatic Center
2636 Alhambra Ave., DeLand 32720
Instructors Information
Lead and Point of Contact: Trey Hannah, Environmental Specialist II
Organization: Volusia County Environmental Management
Phone: 376-736-5927 Ext. 12072
Email: thannah@volusia.org

Additional Leads: Dennis Mudge, Retired Director, and David Griffis, Stetson University Instructor
and UF/IFAS Extension Emeritus
Associate: Kalan Taylor, Ag and Natural Resources Agent
Organization: UF/IFAS Extension Volusia County
---
Tentative Course Agenda
Day 1
Friday, October 8, 2021 - UF/IFAS Volusia County Extension Office
9:00am – 4:00pm

Welcome to FMNP course & Introductions (30 min)
Pre-Test (30 min)
Review instructions for "student presentation" assignments (30 min)
Ethics in Environmental Education and Eco-Heritage Tourism PPT
presentation (60 min)
Interpretation presentation (60 min)
Lunch on your own (30 min)
Watch Human Dimensions Video (30 min)
Ecology presentation (60 min)
Lake Watch and Explore Volusia (30 min)
Final Project discussion (60 min)
Day 2
Friday, October 15, 2021 - Blue Spring State Park
9:00am – 4:00pm

Blue Spring Boat tour (120 min)
Human Dimensions video discussion (15 min)
Birds presentation (60 min)
Lunch and Travel to Volusia County Extension Office (30 min)
Fish presentation by Guest Speaker: Dr. Gibbs (60 min)
Invertebrates presentation (60 min)
Student lead presentations (45 min)
Final Project discussion (30 min)

ON YOUR OWN
Instructions and online links provided by instructor via email
Please complete before next class session
45 minutes
Watch Florida Marshes video (45 min)
Day 3
Friday, October 22, 2021 - Longleaf Pine Preserve
9:00am – 4:00pm

EcoBuggy tour through the preserve (120 min)
Amphibians presentation by Guest Speaker: John Serrao (90 min)
Lunch and travel to Volusia County Extension Office (60 min)
Florida Marsh video discussion (15 min)
Land management (60 min) 
Student lead presentation (45 min)
Final project discussion (30 min)

ON YOUR OWN
Instructions and online links provided by instructor via email
Please complete before next class session
45 minutes
Watch Florida Swamps video (45 min)
Day 4
Friday, October 29, 2021 - Hontoon Island State Park
9:00am – 4:00pm

Reptile presentation by Guest Speaker: Jim Greene (90 min)
Hiking tour of Hontoon island (120 min)
Florida swamps video discussion (15 min)
Lunch and travel to Volusia County Extension Office (30 min)
Permanent wetland (60 min)
Herbaceous wetlands (60 min)
Student lead presentation (30 min)
Final project discussion (15 min)

ON YOUR OWN
Instructions and online links provided by instructor via email
Please complete before next class session
45 minutes
Watch Florida's lakes, rivers, and springs video (45 min)
Day 5
Friday, November 5, 2021 - De León Springs State Park
9:00am – 4:00pm

Kayak tour  (195 min)
Florida's lakes, rivers, and springs video discussion (15 min)
Lunch and travel to Volusia County Extension Office (30 min)
Mammals presentation by Debbie Wright (60 min)
Forested Wetlands (60 min)
Student presentations (30 min)
Final project discussion (30 min)
Day 6
Friday, November 12, 2021 - Stetson Aquatic Center
9:00am – 3:00pm

Student Presentations   (180 min)
Lunch break (60 min)
Graduation (60 min)
Posttest, evaluations and wrap-ups (60 min)
Course Guidelines
On Your Own describes required course activities you are expected to complete on your own prior to the next Live Online Meeting time.
Field Trip Locations & Times may change due to unforeseen circumstances. It is the student's responsibility to verify field information. Transportation and lunches are not included.
Attendance Policy:
You cannot miss more than 8 hours (20% of the 40 contact hours) - a FMNP policy and cannot be modified by the Instructor.
To receive certification, the 8 hours or less missed must be made up by completing an assignment of equal time and content. Approval of the Instructor is required.
If total hours missed exceeds 8 hours, certification is not possible regardless of material made up.
All absences should be discussed with the instructor in advance. In case of emergencies, please notify Instructor as soon as possible.
We are building a legacy of informed citizens to promote awareness, understanding, and respect of Florida's natural ecosystems. To ensure we continue inspiring conservation education and action for decades to come, we need to raise $2 million to establish an endowment for an FMNP Program Leader in perpetuity.
Ripples spread when a single pebble is dropped. Please click here if you wish to contribute to the FMNP Endowment Fund, or contact Dr. Main at mmain@ufl.edu to discuss options for a major gift.
Thank you for your ongoing actions to help conserve Florida's environment for future generations to enjoy!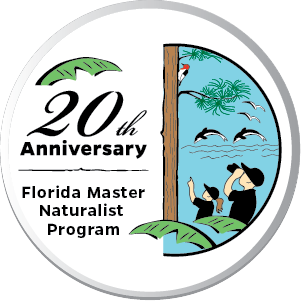 Donate to the FMNP Endowment Fund during 2021 and receive a free, commemorative 20-year anniversary pin.