Charlotte County
October 15 - November 19, 2021
(In-person)
Class filled. Contact Instructor for wait list
(Course Code: fs21-10)
Classroom Facility Information
Charlotte Harbor Environmental Center (CHEC)
10941 Burnt Store Rd, Punta Gorda, FL 33955
Instructors Information
Lead and Point of Contact: Jamie Reynolds, Volunteer
Phone: 941-637-8284
Email: jrnanajamie@gmail.com

Associate: Glen McLean, Volunteer


---
Tentative Course Agenda (revised 9/13/21)
| | |
| --- | --- |
| Day 1 | Friday, October 15, 2021 |
| 8:30am – 10:00am | Introduction, Pre-test, Expectations, etc. |
| 10:00am – 11:30am | Ecology – Glen McLean |
| 11:30am – 12:45pm | Forested Wetlands – Jamie Reynolds |
| 12:45pm – 1:45pm | Lunch & Travel |
| 1:45pm – 5:00pm | Field Trip –Footprints Trail – Cypress swamp |
| | |
| --- | --- |
| Day 2 | Friday, October 22, 2021 |
| 8:30am – 12:00pm | Field Trip – Babcock Wildlife Management – Marshes; Hydric Flatwoods |
| 12:00pm – 1:00pm | Travel & Lunch |
| 1:00pm – 1:15pm | Recap; Q&A |
| 1:15pm – 4:15pm | Amphibians & Reptiles – Guest Speaker: Bob O'Horo, FWC |
| 4:15pm – 5:00pm | Video - Swamps |
| | |
| --- | --- |
| Day 3 | Friday, October 29, 2021 |
| 8:30am – 8:45am | Recap; Q&A |
| 8:45am – 10:00am | Herbaceous wetlands |
| 10:00am – 11:30am | Birds – Guest Speaker: Mike Weisensee, President Audubon Sarasota |
| 11:30am – 12:45pm | Lunch & Travel |
| 12:45pm – 4:15pm | Field Trip – Babcock Preserve /Footprints Trail – Swamp |
Day 4
Friday, November 5, 2021 (Ollie's Pond Park & CHEC)
8:00am – 10:00am
Location: Ollie's Pond Park
Birding a Manmade Pond
Student interpretative Talks
10:00am – 10:30am
Travel
10:30am – 10:45am
Recap; Q&A
10:45am – 12:15pm
Permanent Wetlands – Glen McLean
12:15pm – 12:45pm
Lunch
12:45pm – 2:15pm
Freshwater Fish – Guest Speaker: Josh Olive, Publisher of Waterline, FMN
2:15pm – 3:15pm
Interpretation – Guest Speaker: Stephanie Courtney, FMN
3:15pm – 4:00pm
Video - Marshes
Day 5
Friday, November 12, 2021
8:30am – 8:45am
Recap; Q&A
8:45am -10:15am
Invertebrates – Guest Speaker: Ralph Mitchell, Charlotte Co. Extension Agent
10:15am – 11:45am
Mammals – Guest Speaker: Robin Jenkins, Veterinarian at
Peace River Wildlife Center
11:45am – 12:15pm
Lunch
12:15pm – 1:00pm
Video – Lakes, Rivers & Springs
1:00pm – 3:00pm
Ethics & Group Activity – Glen McLean
3:00pm – 4:00pm
Movie & Discussion: Wetlands and Modern Human Society
| | |
| --- | --- |
| Day 6 | Friday, November 19, 2021 |
| 9:00am – 2:00pm | Final Projects, Post-test , Course Evaluation & Graduation |
Course Guidelines
Please call or text us if you will be missing a class, if you will be late for a class or a field trip, or if you have any questions regarding the class.
Jamie Reynolds
941-637-8284
Glen McLean
603-387-7061
Classroom Presentations: "Classroom" means we are at Charlotte Harbor Environmental Center unless otherwise instructed. In the classroom, it might be very warm or very cool—please, dress accordingly.
Field Trip Locations & Times may change due to unforeseen circumstances. It is the student's responsibility to verify field information. Transportation and lunches are not included. Mid-week you will receive an email with detailed instructions for getting to the site. Please follow the directions we give you; road signs and GPS do not always take you to our meeting point.
Attendance Policy:
You cannot miss more than 8 hours (20% of the 40 contact hours) - a FMNP policy and cannot be modified by the Instructor.
To receive certification, the 8 hours or less missed must be made up by completing an assignment of equal time and content. Approval of the Instructor is required.
If total hours missed exceeds 8 hours, certification is not possible regardless of material made up.
All absences should be discussed with the instructor in advance. In case of emergencies, please notify Instructor as soon as possible.
Field Trips:
Water is required to be carried with you – No Exceptions.
Bring: water, snacks, field ID books, notepad and pen, binoculars, insect repellent, towels and, optionally, a change of clothes (spare shoes/socks/pants/shirt).
Student Carpooling is suggested and is up to students to arrange.
Don't wear perfume/cologne or use perfumed soap/body lotion before going out in the field. This may attract more unwanted buzzing invertebrates known as mosquitoes, midges (no see 'ems) and flies.
There are insects (including mosquitoes), spiders, and snakes outdoors. Hopefully, we will see many of these beautiful creatures. Always watch where you are putting your hands and feet. Use your brain before your body.
Required: Always wear close-toed shoes. The field trails are not always level or easy to travel; some plants have thorns; there may be poison ivy, fire ants, etc. Open-toed shoes are not acceptable to be worn in the field.
Be aware that typically you will be experiencing a variety of environments. You will receive an email each week with recommended clothing for various environments and with detailed instructions for finding the field trip location.
Generally, in addition to appropriate clothing it is recommended you bring sunscreen, insect repellent, a hat, and binoculars.
We will meet at field trip sites rain or shine and determine at the site whether it is safe and/or reasonable to proceed as scheduled. Bring rain protection if the forecast indicates possible rain.
Student Presentations:
During class time or on a field trip each student will give a 5 minute presentation to the class on a topic related to the course material.
Each student will participate in a 20 minute group presentation on the last day of class. Please form a group of at least 3 people for your group presentation.
In class we will assist you in forming groups and developing presentation topics.
Flexible Schedule:
The schedule times listed are as close as possible, but we need you to be flexible.
We probably will not get out early; however, we may run late. We will try to stick to the listed times, but please arrange your schedule so that the class can be flexible.
Food & Drinks: You may bring food, and you may eat or snack during class. We discourage use of plastic water bottles and Styrofoam containers.
Cell Phones: Please don't allow them to ring during classroom sessions or on field trips. Take your calls outside the classroom or step away from the group if on a field trip.
We are building a legacy of informed citizens to promote awareness, understanding, and respect of Florida's natural ecosystems. To ensure we continue inspiring conservation education and action for decades to come, we need to raise $2 million to establish an endowment for an FMNP Program Leader in perpetuity.
Ripples spread when a single pebble is dropped. Please click here if you wish to contribute to the FMNP Endowment Fund, or contact Dr. Main at mmain@ufl.edu to discuss options for a major gift.
Thank you for your ongoing actions to help conserve Florida's environment for future generations to enjoy!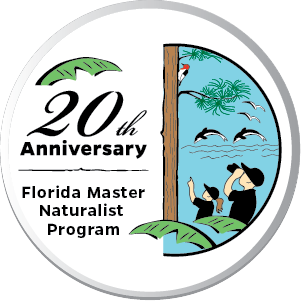 Donate to the FMNP Endowment Fund during 2021 and receive a free, commemorative 20-year anniversary pin.