Miami-Dade County
September 29 - October 1, 2021
(In-person)
Course FULL. Contact Instructor for wait list.
(Course Code: S21-05)
Classroom Facilities Information
Zoo Miami: Education Classroom
12400 SW 152nd St., Miami, FL 33177
Simpson Park
55 SW 17th Road, Miami, FL 33129
Everglades National Park (ENP): Tamiami Trail and Shark Valley
36000 SW 8th St., Miami, FL 33194
Instructors Information
Lead and Point of Contact: Ana Zangroniz, Florida Sea Grant Agent
Organization: Florida Sea Grant and UF/IFAS Extension
Phone: 305-421-4017
Email: azangroniz@ufl.edu

Lead: Lisa Krimsky, UF/IFAS Extension Agent
---
Tentative Course Agenda
| | |
| --- | --- |
| Day 1 | Wednesday, September 29, 2021 (Zoo Miami) |
| 8:30am | Meet outside Zoo entrance |
| 9:00am – 9:45am | Welcome, Introductions, Course Overview, Paperwork |
| 9:45am – 11:15am | Presentation: Biological Diversity - Lisa Krimsky |
| 11:15am – 12:45pm | Presentation: Ecosystem Integrity - Ana Zangroniz |
| 12:45pm – 1:45pm | Lunch at the Zoo or bring bagged lunch |
| 1:45pm – 3:00pm | Guest lecture: Dr. Frank Ridgley of Zoo Miami |
| 3:00pm - 5:15pm | Field activity at Zoo |
| 5:15pm – 6:00pm | Debrief, overview of day 2, dismiss |
Day 2
Thursday, September 30, 2021 (Simpson Park)
9:00am – 9:15am
Day 1 review
9:15am – 10:45am
Presentation: Conservation Strategies - Ana Zangroniz
10:45am – 12:15pm
Guest lecture: Dr. Catherine MacDonald
Shark biology/ecology and conservation
12:15pm – 1:15pm
Lunch
1:15pm – 2:15pm

Guest lecture: Maurizio Martinelli
Coral reef and ecosystem restoration
2:15pm – 2:30pm
Travel to VA Key North Point
2:30pm – 5:30pm
Invasive plant removal and restoration activities with Frost Science
5:30pm – 6:00pm
Final discussion, debrief, prep for day three
| | |
| --- | --- |
| Day 3 | Friday, October 1, 2021 (Everglades National Park ) |
| 8:30am | Meet at S-356 pump station on US-441, 1st stop on tour |
| 8:45am – 12:00pm | Tour of Tamiami Trail project with guests from FDEP and Everglades National Park |
| 12:00pm – 12:30pm | Lunch at Shark Valley |
| 12:30pm – 1:15pm | Shark Valley field trip-foot path with ENP staff |
| 1:15pm - 4:30pm | Shark Valley field trip-tram road |
| 4:30pm – 5:30pm | Final discussion, post-test, evaluation |
Course Guidelines
In-Person/Field Trip Locations & Times are subject to change due to unforeseen circumstances and the status of the COVID-19 health crisis. It is the participant's responsibility to verify meeting information. Transportation and lunches are not included.
The State and University of Florida have rescinded requirements for vaccinated individuals to wear masks to reduce risks of contracting theCOVID-19 virus. These policies pertain to most properties but privately operated businesses may still require masks and FMNP participants are expected to comply with mask requests as needed. For the safety of all, we request FMNP participants be fully vaccinated prior to attending in-person FMNP classes and field trips and that persons either at risk or concerned about contracting COVID-19 attend 100% online courses.
Attendance Policy:
You cannot miss more than 4.75 hours (20% of the 24 contact hours) This is a FMNP policy and cannot be modified by the Instructor.
To receive certification, the 4.75 hours or less missed must be made up by completing an assignment of equal time and content. Approval of the Instructor is required.
If total hours missed exceeds 4.75 hours, certification is not possible regardless of material made up.
All absences should be discussed with the instructor in advance. In case of emergencies, please notify Instructor as soon as possible.
Flexible Schedule:
• The schedule times listed are as close as possible, but we need you to be flexible. 
• We probably will not get out early; however, we may run late. We will try to stick to the listed times, but please arrange your schedule so that the class can be flexible.
Phones: Please make sure they are turned to silent.
Field Trips:
• Water is Required to be Carried with You – No Exceptions.
• Bring: water, lunch, snacks, sunscreen, hat, closed-toed water shoes, field equipment such as camera, binoculars, insect repellent, field ID books, notepad and pen, etc.
• The weather is unpredictable on our field trips—please, dress accordingly
"An Equal Opportunity Institution"
We are building a legacy of informed citizens to promote awareness, understanding, and respect of Florida's natural ecosystems. To ensure we continue inspiring conservation education and action for decades to come, we need to raise $2 million to establish an endowment for an FMNP Program Leader in perpetuity.
Ripples spread when a single pebble is dropped. Please click here if you wish to contribute to the FMNP Endowment Fund, or contact Dr. Main at mmain@ufl.edu to discuss options for a major gift.
Thank you for your ongoing actions to help conserve Florida's environment for future generations to enjoy!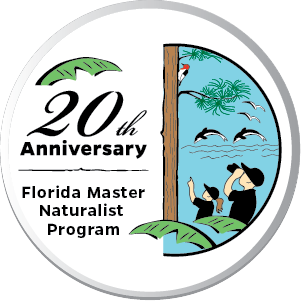 Donate to the FMNP Endowment Fund during 2021 and receive a free, commemorative 20-year anniversary pin.