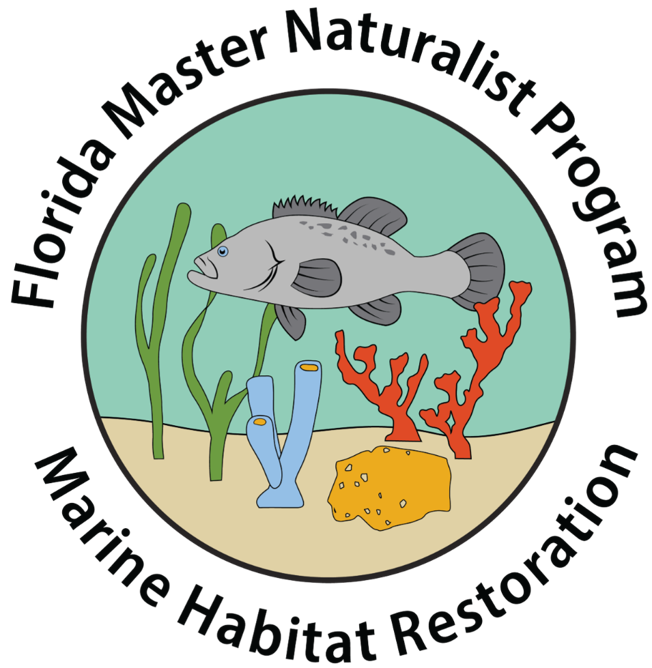 Brevard County
July 18-29, 2023
Course FULL. Contact Instructor for wait list.
(Course Code: MR23-02)
The course format is Hybrid: Live online classes and in-person field trips.
In-person Field Trip Locations
Tom Statham Park
7101 US-1, Titusville, FL,32780
The Florida Aquarium's Center for Conservation
Suncoast Youth Conservation Center
6650 Dickman Road, Apollo Beach, FL 33572
Instructors Information
Lead and Point of Contact: Holly Abeels, Florida Sea Grant Extension Agent
Organization: UF/IFAS Extension Brevard County
Phone: 321-633-1702 x52333
Email: habeels@ufl.edu
Website: https://sfyl.ifas.ufl.edu/brevard/
Associate: Carolyn Kovacs,, Florida Sea Grant Extension Agent, UF/IFAS Extension Flagler & Volusia Counties
---
Tentative Course Agenda
Open the PDF below to view the full agenda for this course.
---
Course Guidelines
Covid-19 Safety Precautions:
In light of the latest CDC updates and guidance from UF health experts, we no longer require masks during in-person FMNP activities but welcome masks for those who wish to wear them and voice support for those who do.
Live Online Meeting:
This indicates when you are required to be online (via Zoom) at the designated time to participate in course presentations, discussions, and activities. Attendance will be taken by the instructor.
To participate, you must have:
Downloaded to latest version of Zoom (https://zoom.us/)
An internet connection suitable for live streaming (wired or wireless)
Headset, or speakers and microphone (most laptops have this included)
Web camera (most laptops have this included)
A quiet location where you will not be disturbed
On Your Own:
This describes required course activities you are expected to complete by the requested deadline.
Attendance Policy:
You cannot miss more than 4.75 hours (20% of the 24 contact hours) This is a FMNP policy and cannot be modified by the Instructor.
To receive certification, the 4.75 hours or less missed must be made up by completing an assignment of equal time and content. Approval of the Instructor is required.
If total hours missed exceeds 4.75 hours, certification is not possible regardless of material made up.
All absences should be discussed with the instructor in advance. In case of emergencies, please notify Instructor as soon as possible.
Field Trip Locations and Times:
Field trip locations and times may change due to unforeseen circumstances. It is the student's responsibility to verify field information. Transportation and lunches are not included. Carpooling is suggested.
Field Trips:
Water is Required to be Carried with You – No Exceptions.
Bring: water, snacks, field ID books, notepad and pen, binoculars, insect repellent, towels, and a change of clothes (spare shoes/socks/pants/shirt).
Don't wear perfume/cologne or use perfumed soap/body lotion before going out in the field. This may attract more unwanted buzzing invertebrates known as mosquitoes, midges (no see 'ems) and flies.
There are insects (including mosquitoes), spiders, and snakes outdoors. Hopefully, we will see many of these beautiful creatures. Always watch where you are putting your hands and feet. Use your brain before your body.
Required: Always Wear Close-toed Shoes. The field trails are not always level or easy to travel; some plants have thorns; there may be poison ivy; fire ants, etc. Open-toed shoes are not acceptable to be worn in the field.
Be aware that typically you will be experiencing a variety of environments. For your comfort, always bring a spare change of clothes.
Wear: layered clothes, long sleeves and pants, hiking boots or appropriate foot-wear for the day's field trip, hat, sunglasses, sunscreen, insect repellent (especially on feet/legs).
It might be very hot on our field trips—please, dress accordingly.
---
"An Equal Opportunity Institution"
We are building a legacy of informed citizens to promote awareness, understanding, and respect of Florida's natural ecosystems. To ensure we continue inspiring conservation education and action for decades to come, we need to raise $2 million to establish an endowment for an FMNP Program Leader in perpetuity.
Ripples spread when a single pebble is dropped. Please consider contributing to the FMNP Endowment Fund, or contact Dr. Main at mmain@ufl.edu to discuss options for a major gift. Thank you for your ongoing actions to help conserve Florida's environment for future generations to enjoy!