St. Johns County
September 7-28, 2021
(Live ONLINE, On Your Own & In-person field)
Class filled. Contact Instructor for wait list.
(Course Code: IP21-06)
Instructor Information
Lead and Point of Contact: Kelly Ussia, Parks Naturalist
Organization: St. Johns County Parks and Recreation
Phone: 904-209-0335
Email: kussia@sjcfl.us
Website: http://sjcfl.us/

---
Tentative Course Agenda
Day 1
Tuesday September 7th
LIVE ONLINE MEETING
(Zoom)
Zoom meeting link provided by email
7:00pm–8:30pm

Welcome to FMNP course & Introductions
Getting comfortable with Zoom/testing equipment
What to expect from the course
Course Pre-Test
Questions

Day 2
Wednesday September 8th
LIVE ONLINE MEETING
(Zoom)
Zoom meeting link provided by email
7:00pm–8:30pm

Introduction to Invasive Plants

ON YOUR OWN
Instructions and online links provided by email. Please complete before next live Zoom session
1 Hour

Yard & Neighborhood Assessment

Day 3
Tuesday September 14th
LIVE ONLINE MEETING
(Zoom)
Zoom meeting link provided by email
7:00pm–8:30pm

HW Discussion
Upland Invasive Plants

Day 4
Wednesday September 15th
LIVE ONLINE MEETING
(Zoom)
Zoom meeting link provided by email
7:00pm–8:15pm
ON YOUR OWN
Instructions and online links provided by email. Please complete before next live Zoom session
1 Hour 15 Min
Day 5
Tuesday September 21st
LIVE ONLINE MEETING
(Zoom)
Zoom meeting link provided by email
7:00pm–8:30pm

HW Discussion
Aquatic Invasive Plants

ON YOUR OWN
Instructions and online links provided by email. Please complete before next live Zoom session
45 Min

Aquatic Invasive Videos & Research

Day 6
Wednesday September 22nd
LIVE ONLINE MEETING
(Zoom)
Zoom meeting link provided by email
7:00pm–8:30pm

HW Discussion
Guest Speaker: Native Landscaping

ON YOUR OWN
Instructions and online links provided by email. Please complete before next live Zoom session
1 Hour
Day 7
Saturday September 25th
IN PERSON

Field Trips (Solomon Calhoun Center)

9:00am–4:30pm

Invasive Species Removal
Lunch (30min)
Plant Morphology Presentation
Plant Morphology Lab

Day 8
Sunday September 26th
IN PERSON
Field Trip (Trout Creek Boat Ramp)
10:00am–1:00pm
Day 9
Tuesday September 28th
LIVE ONLINE MEETING
(Zoom)
Zoom meeting link provided by email
7:00pm–8:30pm

Share HW Assignment
Post Test
Evaluations
Wrap-Up
Course Guidelines
Live Online Meeting indicates when you are required to be online (Zoom) at the designated time to participate in course presentations, discussions, and activities. Attendance will be taken by the instructor. To participate, you must have:
Zoom application downloaded to their personal computer (https://zoom.us/)
An internet connection suitable for live streaming (wired or wireless)
Headset, or speakers and microphone (most laptops have this included)
Web camera (most laptops have this included)
On Your Own describes required course activities you are expected to complete on your own prior to the next Live Online Meeting time.
*In-Person/Field Trip Locations & Times are subject to change due to unforeseen circumstances and the status of the COVID-19 health crisis. It is the participant's responsibility to verify meeting information. Transportation and lunches are not included. Carpooling suggested. Times do not include travel time required to drive to meeting locations.
Attendance Policy
You cannot miss more than 8 hours (20% of the 40 contact hours) of the Core Module course. You cannot miss more than 4.75 hours (20% of the 24 contact hours) of the Special Topics or Restoration Series course. This is a FMNP policy and cannot be modified by the Instructor.
To receive certification, the (8 or 4.75) hours or less missed must be made up by completing an assignment of equal time and content. Approval of the Instructor is required.
If total hours missed exceeds (8 or 4.75) hours, certification is not possible regardless of material made up.
All absences should be discussed with the instructor in advance. In case of emergencies, please notify Instructor as soon as possible.
We are building a legacy of informed citizens to promote awareness, understanding, and respect of Florida's natural ecosystems. To ensure we continue inspiring conservation education and action for decades to come, we need to raise $2 million to establish an endowment for an FMNP Program Leader in perpetuity.
Ripples spread when a single pebble is dropped. Please click here if you wish to contribute to the FMNP Endowment Fund, or contact Dr. Main at mmain@ufl.edu to discuss options for a major gift.
Thank you for your ongoing actions to help conserve Florida's environment for future generations to enjoy!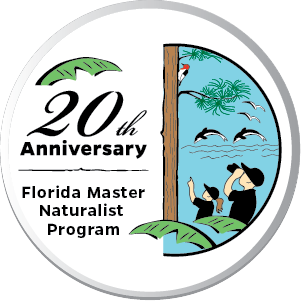 Donate to the FMNP Endowment Fund during 2021 and receive a free, commemorative 20-year anniversary pin.