Sarasota County
October 18 - November 1, 2021
(In-person)
Registration closes at 10:00am on October 13, 2021
(Course Code: I21-04)

Classroom Facility Information
UF/IFAS Extension Sarasota County
Twin Lakes Park: Green Building
6700 Clark Road, Sarasota, Florida 34241
Instructors Information
Lead and Point of Contact: Katherine Clements, Ecology and Natural Resources Educator
Organization: UF/IFAS Extension Sarasota County
Phone: 941-861-9822
Email: kclements@scgov.net
Website: http://sfyl.ifas.ufl.edu/sarasota
Associate: Sarah Davis, 4-H Youth development agent and NAI certified trainer, guide, and host
---
Tentative Course Agenda
| | |
| --- | --- |
| Day 1 | Monday, October 18, 2021 – Classroom and offsite field location TBD |
| 8:30am - 10:30am | Welcome, Introductions, Paperwork, Icebreaker Activity, Course Overview |
| 10:30am - 12:30pm | Developing Interpretive Presentations Presentation |
| 12:30pm - 1:30pm | Lunch on your own |
| 1:30pm - 2:30pm | Case studies |
| 2:30pm - 5:30pm | Practical Activity and Group Presentations |
| | |
| --- | --- |
| Day 2 | Monday, October 25, 2021 – Classroom and offsite field location TBD |
| 8:30am - 10:30am | Natural areas Field trip for Interpretive examples- location TBD |
| 10:30am - 12:30pm | Guided Interpretation Presentation |
| 12:30pm - 1:30pm | Lunch/travel to Classroom |
| 1:30pm - 3:30pm | Continue presentation, Case studies |
| 3:30pm - 5:30pm | Practical Activity and Group Presentations |
| | |
| --- | --- |
| Day 3 | Monday, November 1, 2021 – Classroom and offsite field location TBD |
| 8:30am - 10:30am | Interpretive Displays Presentation |
| 10:30am - 12:30pm | Field trip for Interpretive Displays- location TBD |
| 12:30pm - 1:30pm | Lunch/travel to Classroom |
| 1:30pm - 2:00pm | Case studies |
| 2:00pm - 4:30pm | Practical Activity and Group Presentations |
| 4:30pm - 5:30pm | Potluck Dessert, Paperwork, and Graduation |

***Please watch for an email from your instructor prior to the first day of class with important instructions. Make sure the email you provide at registration is how you would like to be contacted with class information.
Course Guidelines
Classroom sessions will be hosted at the Sarasota County Extension Office, except where noted. Please bring your own snacks, beverages, and lunch in reusable or recyclable containers. Please silence cell phones during classroom sessions and field trips.
Activities and Presentations Each day includes hands-on activities and learning experiences related to environmental interpretation. The presentations to be done are planned during class and presented as a group. Usually preparation outside of class is not necessary, but there may be some minimal work assigned to prepare for the next day.
In-Person/Field Trip Locations & Times are subject to change due to unforeseen circumstances. It is the participant's responsibility to verify meeting information. Transportation and lunches are not included. Times do not include travel time required to drive to meeting locations. During class your instructor will provide additional information, including maps and/or directions to field trip locations.
The State and University of Florida have rescinded requirements for vaccinated individuals to wear masks to reduce risks of contracting the COVID-19 virus. These policies pertain to most properties but privately operated businesses may still require masks and FMNP participants are expected to comply with mask requests as needed. For the safety of all, we request FMNP participants be fully vaccinated prior to attending in-person FMNP classes and field trips and that persons either at risk or concerned about contracting COVID-19 attend 100% online courses.
Attendance Policy:
You cannot miss more than 4.75 hours (20% of the 24 contact hours) This is a FMNP policy and cannot be modified by the Instructor.
To receive certification, the 4.75 hours or less missed must be made up by completing an assignment of equal time and content. Approval of the Instructor is required.
If total hours missed exceeds 4.75 hours, certification is not possible regardless of material made up.
All absences should be discussed with the instructor in advance. In case of emergencies, please notify Instructor as soon as possible.
Lunch Please try to bring a packed lunch, especially on field trip days where we will most likely eat on-site. We will set aside time for lunch each day, but timing will be flexible based on the day's activities.
Field Recommendations:
We will spend some time outdoors. There is walking involved but not extensive or rigorous, but it will likely be hot. If you have any concerns about the physical demands, please contact the instructor.
• Wear: Cool, breathable clothes, long sleeves and pants, hat, sunglasses and sunscreen.
• Must wear close-toed shoes for every field trip. The field trails are not always level and we may encounter red ants or poison ivy, so best to protect yourself.
• Don't wear: perfume/cologne or use perfumed soap/body lotion before going out in the field. This may attract more unwanted buzzing invertebrates known as mosquitoes, midges (no see 'ems) and flies.
• There are insects (including mosquitoes), spiders, and snakes outdoors. Hopefully, we will see many of these beautiful creatures. Always watch where you are putting your hands and feet. Use your brain before your body.
• It will be very hot on our field trips—please, dress accordingly and HYDRATE.
• You must bring water with you to drink on each field trip. No exceptions. You will not be allowed on the field trip if you do not have adequate water or hydration with you.
• Bring: water, snacks, field ID books, notepad and pen, binoculars, insect repellent, sunscreen, and if you wish- a change of clothes.

"An Equal Opportunity Institution"
We are building a legacy of informed citizens to promote awareness, understanding, and respect of Florida's natural ecosystems. To ensure we continue inspiring conservation education and action for decades to come, we need to raise $2 million to establish an endowment for an FMNP Program Leader in perpetuity.
Ripples spread when a single pebble is dropped. Please click here if you wish to contribute to the FMNP Endowment Fund, or contact Dr. Main at mmain@ufl.edu to discuss options for a major gift.
Thank you for your ongoing actions to help conserve Florida's environment for future generations to enjoy!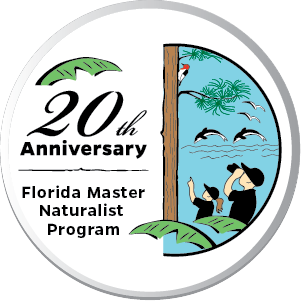 Donate to the FMNP Endowment Fund during 2021 and receive a free, commemorative 20-year anniversary pin.