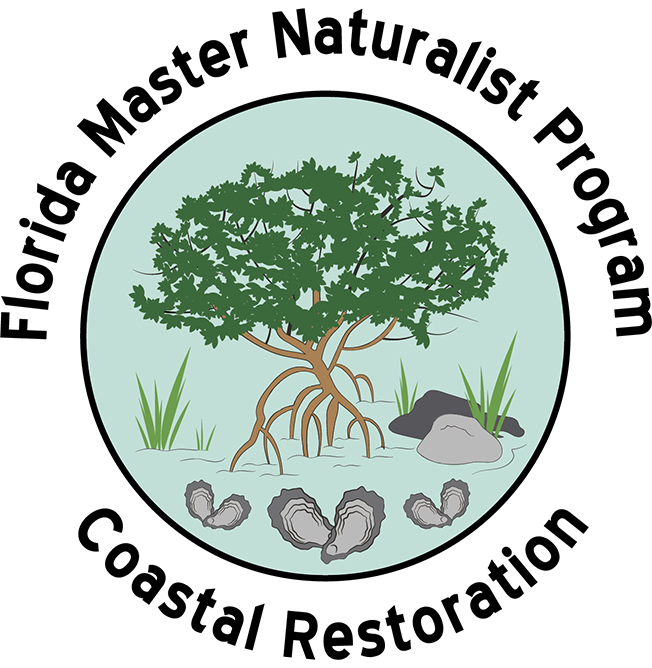 Brevard County
June 5 - July 2, 2020 (online classes)
July - September TBD (in-person)
Course full. Contact Instructor for waitlist.
(Course Code: CR20-07)


Instructor Information
Lead and Point of Contact: Holly Abeels, Florida Sea Grant Extension Agent
Organization: UF/IFAS Extension Brevard County
Phone: 321-633-1702 x52333
Email: habeels@ufl.edu


---
Tentative Course Agenda
Day 1
Friday, June 5, 2020 (Online)
10:00am – 11:00am
Live online via Zoom


Welcome to FMNP course & Introductions (30 min)
Getting comfortable with Zoom/testing equipment (15 min)
Review instructions for "on your own" assignments (15 min)

ON YOUR OWN
­ Instructions and online links provided by email
­ Please complete before next live Zoom session
90 minutes

Pre-test (15 min)
The Problem of Erosion, YouTube videos (55.5 min)
Reflection Activity 1 (20 min)
Day 2
Friday, June 12, 2020 (Online)
10:00am - 12:00pm

Live online via Zoom


Reflection Activity 1 – Review and Discussion (30 min)
Introduction to Living Shorelines PPT presentation (60 min, w/break)
Discussion and Q&A (30 min)

ON YOUR OWN
­Instructions and online links provided by email
­Please complete before next live Zoom session
95 minutes

Watch recording of Florida Sea Grant's Bite-sized Science Webinar on Living Shorelines (35 min)
Watch: Living Shoreline YouTube videos (20 min)
Read: Wetlands Better than Walls (10 min)
Explore website: Florida Living Shorelines (15 min)
Reflection Activity 2 (15 min)
Day 3
Friday, June 19, 2020 (Online)
10:00am - 12:00pm
Live online via Zoom


Reflection Activity 2 – Review and Discussion (30 min)
Marsh Habitats PPT presentation (90 min w/break)

ON YOUR OWN
­Instructions and online links provided by email
­Please complete before next live Zoom session
60 minutes

Read: Ecosystem Services Valuation (40 min)
Reflection Activity 3 (20 min)
Day 4
Friday, June 26, 2020 (Online)
10:00am - 12:00pm
Live online via Zoom

Reflection Activity 3 – Review and Discussion (30 min)
Mangrove Habitats PPT presentation (90 min, w/break)

ON YOUR OWN
­Instructions and online links provided by email
­Please complete before next live Zoom session
95 minutes

Watch: Oyster Reef Videos (20 min)
Read: Regulations and Permitting for Living Shorelines (45 min)
Reflection Activity 4 (30 min)
Day 5
Thursday, July 2, 2020 (Online)
10:00am - 12:00pm
Live online via Zoom


Reflection Activity 4 – Class Share and Discussion (30 min)
Oyster Habitats PPT presentation (90 min, w/break)

ON YOUR OWN
­Instructions and online links provided by email
­Please complete before next live Zoom session
15 minutes
Post-test (15 min)
Day 6
July – September 2020 *tentative; subject to rescheduling*
Sign-up to volunteer with the Brevard Zoo Restore Our Shores program or Marine Resources Council on living shoreline projects
3 hours

Brevard Zoo Restore Our Shores
Marine Resources Council
Day 7
July – September 2020 *tentative; subject to rescheduling*
Sign-up to volunteer with the Brevard Zoo Restore Our Shores program or Marine Resources Council on living shoreline projects
3 hours

Brevard Zoo Restore Our Shores
Marine Resources Council
Day 8
July – September 2020 *tentative; subject to rescheduling*
Sign-up to volunteer with the Brevard Zoo Restore Our Shores program or Marine Resources Council on living shoreline projects
3 hours

Brevard Zoo Restore Our Shores
Marine Resources Council
Course Guidelines
Live Online Meeting or Webinar indicates when you are required to be online (via Zoom or the provided webinar link) at the designated time to participate in course presentations, discussions, and activities. Attendance will be taken by the instructor.
To participate, you must have:
• Zoom application downloaded to their personal computer (https://zoom.us/)
• An internet connection suitable for live streaming (wired or wireless)
• Speakers and a microphone
• Web camera (it is possible to join with audio only, but a web camera is strongly recommended and highly preferred by the instructor)
On Your Own describes required course activities you are expected to complete on your own prior to the next Live Online Meeting time. The instructor will provide instructions and links to resources via email to registered participants.
*In-Person/Field Trip Locations & Times are subject to change due to unforeseen circumstances and the status of the COVID-19 health crisis. Volunteer events will generally occur over 3 to 5 consecutive half-days (arranged around tides) and there will be many options for participation throughout summer and fall. The instructor is willing to be flexible by not requiring the entire class to attend the same days, asks that the field shifts be completed as soon as possible so as to expedite course conclusion/student certifications. There will be both weekday and weekend options for volunteering. Students will be made aware of options as soon as they are announced. It is the participant's responsibility to verify meeting information. Transportation and lunches are not included. Carpooling suggested. Times do not include travel time required to drive to meeting locations.
Attendance Policy:
You cannot miss more than 4.75 hours (20% of the 24 contact hours) This is a FMNP policy and cannot be modified by the Instructor.
To receive certification, the 4.75 hours or less missed must be made up by completing an assignment of equal time and content. Approval of the Instructor is required.
If total hours missed exceeds 4.75 hours, certification is not possible regardless of material made up.
All absences should be discussed with the instructor in advance. In case of emergencies, please notify Instructor as soon as possible.
We are building a legacy of informed citizens to promote awareness, understanding, and respect of Florida's natural ecosystems. To ensure we continue inspiring conservation education and action for decades to come, we need to raise $2 million to establish an endowment for an FMNP Program Leader in perpetuity.
Ripples spread when a single pebble is dropped. Please click here if you wish to contribute to the FMNP Endowment Fund, or contact Dr. Main at mmain@ufl.edu to discuss options for a major gift.
Thank you for your ongoing actions to help conserve Florida's environment so future generations may enjoy it!