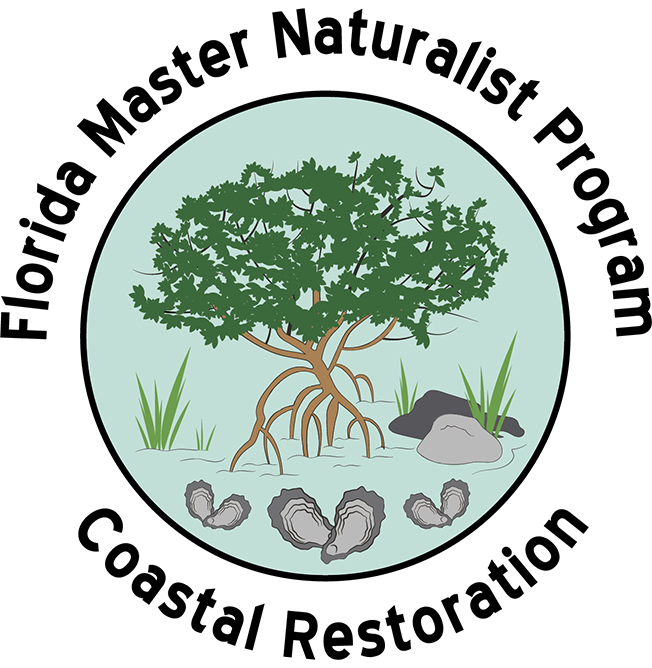 Volusia County
May 21-29, 2020
Registration closes at 10:00am on May 18, 2020
(Course Code: CR20-05)


Classroom Facility Information
Marine Discovery Center (MDC)
520 Barracuda Blvd., New Smyrna Beach, FL 32169
Instructors Information
Associate and Point of Contact: Charity Jackson, Naturalist
Organization: Marine Discovery Center
Phone: 386-852-4091
Email: charity@marinediscoverycenter.org
Website: www.marinediscoverycenter.org
Lead: Chad Truxall, Executive Director
Assistant: Lisa Mickey, Naturalist


---
Tentative Course Agenda
Day 1
Thursday, May 21, 2020
4:00pm - 5:00pm
Sign In / Introductions / Pre-Test/ Waivers / Coffee and Snack
5:00pm - 5:45pm
Living Shorelines Presentation – Chad Truxall
5:45pm - 6:30pm
MDC tour of restored shoreline on site – Chad Truxall
6:30pm - 8:30pm
Field Trip – Boat Tour
We will travel through the IRL viewing living shorelines and contrasting those with developed areas that reduce shoreline habitat.  We will discuss the components of a living shoreline and their roles in the ecosystem.  Feel free to bring a sack dinner to eat on the boat.  On the return trip, we will enjoy the sunset over the lagoon.
Day 2
Friday, May 22, 2020
9:00am - 9:15am
Sign In / Welcome / Coffee and Snack
9:15am - 10:15am
Mangrove Presentation – Charity Jackson
10:15am - 11:00am
Restoration of Coastal Wetlands in East Florida
Guest Speaker – Chris Schlageter
11:00am - 11:30am
Travel to Battle Island
We will take a short drive over to Battle Island and enjoy our sack lunches under the island's beautiful oak hammock.  After lunch we will hear from local experts about both bees and mosquitoes.
11:30am - 12:30pm
 Lunch on your own
12:30pm - 1:30pm
Honey Bee/ Mangrove Association – UF Certified Master Beekeeper,
Marlin Athearn
1:30pm - 2:30pm
Mosquito / Wetland Association – Volusia Mosquito Control, Speaker TBD
2:30pm - 5:00pm

We will break into two groups and rotate between touring the island and kayaking. 

Rotating Tour Groups


Island Tour – Battle Island's Owner, Cindy McCallister
Young Bear Environmental Consultant, Danny Young

You will have the opportunity to see some of the owner's efforts to restore her little piece of natural Florida and hear from an expert about the methods for responsibly removing invasive plant species.   

Kayak Tour – View restored mosquito ditches – Chris Schlageter

During the kayak tour you will have the opportunity to see mosquito ditch restoration areas.
Day 3
Thursday, May 28, 2020
4:00pm - 4:15pm
Sign In / Welcome / Coffee and Snack
4:15pm - 5:15pm
Oyster Presentation – Charity Jackson
5:15pm - 6:15pm
Shuck and Share Oyster Program Presentation -
Guest Speaker: Jessy Wayles, Conservation Science Coordinator
6:15pm - 7:15pm
Oyster Bagging –
Guest Speaker: Tess Sailor-Tynes, Conservation Science Specialist
7:15pm - 8:00pm
Marsh Grass Harvesting / Mangrove Harvesting and Potting – Charity Jackson
Day 4
Friday, May 29, 2020
9:00am - 12:30pm

Field Trip – Seminole Rest in Canaveral National Seashore
Guest Speaker: Post Doctoral Scientist and Professor at UCF,
Melinda Donnelly, PhD

We will tour the area to see shoreline restoration projects both old and new.
Shoreline Restoration Project – We will be working with Dr. Donnelly to restore living shoreline. This project will include mangrove and grass planting and oyster bag placement.

12:30pm - 1:30pm
Return to Marine Discovery Center - Lunch
1:30pm - 2:30pm
Salt Marsh Presentation – Lisa Mickey
2:30pm - 3:50pm

Activities – 

Biodiversity Surveying / Monitoring of restored salt marsh -
Chad Truxall and Charity Jackson

Seine Netting Demonstration – We will see firsthand the abundance and diversity of fish species and learn about the ongoing biodiversity surveys.
Shoreline Biodiversity Monitoring Demonstration – We will learn about the techniques used to survey and monitor restored shorelines

3:50pm - 4:00pm
Florida Master Naturalist Program Endowment Fund
4:00pm - 5:00pm
Post-test / Evaluation / Graduation
Course Guidelines
Dates - Dates are final however topics and activities for each class are subject to change. A more detailed schedule will be sent out to registered students as the start date approaches
Lunch - Students should bring a sack lunch and refillable water bottle to each class.
Field Trips – Carpooling is suggested.  We recommend that you not wear perfume/cologne or use perfumed soap/body lotion before going out in the field. This may attract more unwanted buzzing invertebrates known as mosquitoes, midges (no see 'ems), flies and bees.  Be prepared to get wet. Please bring a towel, change of clothes, close-toe shoes, sunscreen, bug spray, water bottle and a sense of adventure
Attendance Policy:
You cannot miss more than 4.75 hours (20% of the 24 contact hours) This is a FMNP policy and cannot be modified by the Instructor.
To receive certification, the 4.75 hours or less missed must be made up by completing an assignment of equal time and content. Approval of the Instructor is required.
If total hours missed exceeds 4.75 hours, certification is not possible regardless of material made up.
All absences should be discussed with the instructor in advance. In case of emergencies, please notify Instructor as soon as possible.